Fitch's Ford closes in on 200th victory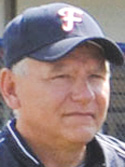 ---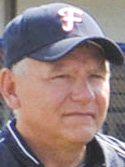 Photo
By Greg Gulas
Austintown
Having already locked up the All-American Conference American Division crown, the Austintown Fitch baseball team (14-2, 9-0) hopes to close out a perfect league season today against Niles at Rich Coppola Field.
A win would give Falcons coach Wally Ford his 200th career coaching victory, a goal the team has quietly been eyeing since the beginning of the season.
"A league win is always special, but to be able to close out a perfect conference season and in the process present Coach [Ford] with his 200th career victory, all on the same day is even more special," pitcher Austin Cooper said. "We took our lumps a few years ago but gained valuable experience to where we now have that killer instinct.
"As a team, we have a focused mentality right now."
A 1974 Fitch graduate, Ford was a two-time letter-winning shortstop and third baseman under Coach Rich Coppola, the school's winningest coach with 453 victories.
It was Coppola who resurrected the school's diamond program in 1968, leading the Falcons until 1996 while relying on players (and later coaches) like Ford to keep his program pointed in the right direction.
During Ford's senior campaign, the Falcons posted a 16-4 mark en-route to the school's first district title.
"As a player, Wally had great hands and was a natural leader," Coppola said. "His father [Wally, Sr.] taught him the game at an early age and he remained a student of the game all these years.
"Back when we would practice indoors prior to the start of the season, I could just close the curtain with him on one side knowing full well he would coach the other players; both during his playing days and when he later joined my staff.
"His success comes as no surprise to me and as long as he is around, Fitch baseball will remain very competitive."
With 669 wins overall since 1968, Ford has witnessed more than half of those victories either as a player, assistant coach or from his current head coaching perch.
He credits his longevity to excellent players and a solid coaching staff with continuity and very little turnover.
"Reaching a coaching milestone only means that I have been lucky enough to hang around for a long time," Ford said. "I've been very fortunate over the years as current coaches Joe Paris and Jake Corbett, and former coach Don Dobrindt remained with me a number of years.
"I have had a lot of great players and quite a few have gone on to play college ball," Ford said. "The other nice thing has been going up against some of the other area coaches that I played with or against on the local sandlots. Coaches like Wayne Zetts, Mike Popio, Dave Smercansky and Bill Sattler, just to name a few have made the past 14 years most memorable."
Like his playing days for Coppola, the cornerstone of Ford-coached teams remains senior leadership.
With eight seniors dotting this year's roster, the lumps they took as freshmen and sophomores were well worth absorbing during the maturation process.
In addition to Cooper and Sayers, other seniors are Kevin Miller, Kevin Sierra, Jeff Melnek, Roger Simpson, Zarek Bell and Tony Adams.
Ford has led the Falcons to league titles as members of three different conferences: Steel Valley Conference, Federal League and All-American Conference.