Rosses celebrate 50th with party hosted by family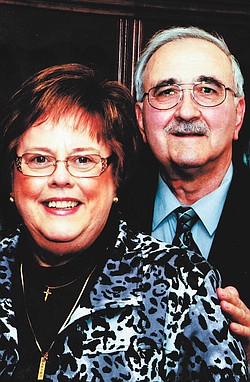 Photo
PETERSBURG
Mr. and Mrs. Eugene Ross of Petersburg celebrated their 50th wedding anniversary May 4 with a party at their home hosted by their children and their spouses.
Their children are Cindy Kibby and her fianc , David Nolfi, of New Middletown; Mark and Kim Ross of Deerfield; and Carrie and Michael Morrow of Canfield.
Seven grandchildren complete the family: Shawn, Todd and Kristen Kibby; Michaela and Addison Ross; and Michael Jr. and Ross Morrow.
The former Sandra Schaeffer married Eugene Ross on May 6, 1963, at Immaculate Conception Church, Youngstown.
The couple are members of St. Paul The Apostle Church of New Middletown.
Mrs. Ross graduated from Trumbull Memorial Hospital School of Nursing in 1963 and was a registered nurse at Maplecrest Nursing Home in Struthers before retiring in 1998.
Mr. Ross was an elevator mechanic for 42 years, working for Otis, Schindler and Millar Elevator companies. He then became a business agent for International Union of Elevator Constructors Local 45 before retiring in 2000.
He is president of New Middletown Farmers and Sportsmen's Club.
He served in the military police at Fort Sill, Okla., and is a U.S. Army Veteran.