Jacobsons celebrate 60th anniversary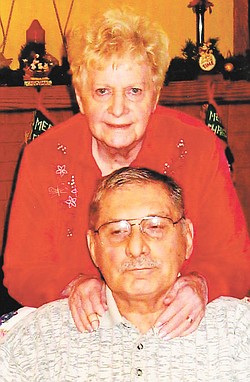 Photo
Mr. and Mrs. Charles Jacobson
LOWELLVILLE
Mr. and Mrs. Charles Jacobson of Lowellville celebrated their 60th wedding anniversary May 2.
They will be honored with a luncheon today.
Invitations were issued.
The former Phyllis Arp and Mr. Jacobson were married May 2, 1953, in Lowellville, at the home of the bride's parents.
They have three daughters, Karen (Joseph) Speziale and Diane (Douglas) Maizel, all of Lowellville; and Susan Shuluga of Struthers.
Their grandchildren are Jennifer (Jason) Schiraldi of Canfield, Joseph Speziale of Boardman, Kristin (Ryan) Sanderson of Boston, Matthew Maizel of Youngstown and Corey Maizel of Broomfield, Colo. They have three great-grandchildren, Kenley Schiraldi, Lincoln Sanderson and Victor Maizel.
Mrs. Jacobson retired as a nurse from St. Elizabeth Hospital in 1984. She continued nursing in other positions until 1994.
Mr. Jacobson retired from Sears Roebuck and Co. service department in 1994.
The couple are members of Mahoning Presbyterian Church in Pulaski, Pa.