Downtown Youngstown's ups & downs
By JAMISON COCKLIN and DAVID SKOLNICK
news@vindy.com
YOUNGSTOWN
"April is the cruellest month."
That opening line of T.S. Eliot's "The Waste Land" poem could apply to downtown, which over the last month saw a couple of restaurants go out of business and another that relocated last summer begin a major overhaul.
Downtown Growing Pains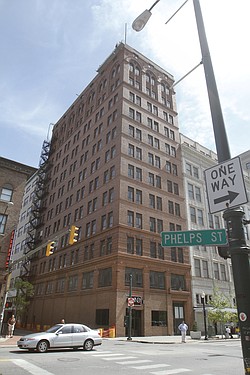 Gallery
The changing face of downtown Youngstown and what's succeeded and what's failed.
It also highlights the fragile nature of downtown's revitalization, which bustled during the heyday of the steel mills but only 15 years ago resembled a ghost town.
Since the Covelli Centre opened in October 2005 and the removal of the Federal Plaza brick-and-concrete pedestrian area a year earlier, a number of restaurants and bars opened. They took over vacant or
underused buildings downtown, particularly along West Federal Street.
Those steps, along with the growth of high-tech companies at the Youngstown Business
Incubator and the opening of the National Additive Manufacturing Innovation Institute on West Boardman Street, attracted
international attention to the city's downtown turnaround.
But even with progress, the outlook for downtown Youngstown is not entirely positive. Many of the leading factors — such as retail, a hotel and more upscale housing — that have revitalized other downtowns are still a long way from reality here.
The task of growing downtown Youngstown, experts and city leaders say, is a mountainous one and despite many success stories, much work

remains.
layoffs and closings
April made evident the challenges of long-term and lasting economic development in the central city.
Turning Technologies laid off eight full-time
employees April 15 in what Mike Broderick, its chief executive, said is a move to make room for new
positions that will keep the company competitive in a growing industry.
On April 20, Cafe Cimmento on East Boardman Street closed after nearly seven years in business. Owner George Mager, who opened the dining establishment in 2006 to meet demand before and after Covelli Centre events, cited growing competition with restaurants along West Federal Street as one factor in his decision to close.
Lou Frangos, president of The Frangos Group, which owns the Cimmento space, said Mager was a great tenant, and the company has spoken to other businesses
interested in the space. "We plan to take our time and find the correct fit," Frangos said.
Days after Cimmento closed, the Lemon Grove announced it would overhaul its staff and
welcome employees from Guy's Barbecue to run the kitchen, dining room and bar — a move aimed at improving its business model and offer better customer service.
The Lemon Grove had relocated a year ago, two doors down to the larger 110 W. Federal St. It was the former location of Rosetta Stone Cafe and Lounge, which went out of business in 2010, less than two years after it opened to much fanfare.
Mager's sentiments were echoed recently by Chris Sammarone, who opened Dooney's Downtown Grill & Bar last summer, only to close it in mid-April with plans to turn the restaurant over to another
operator.

Sammarone, an attorney, said it was difficult to attract business both during the day and at night from Monday through Thursday.
"Some people open and think they're in the right business and then someone else opens and they can't compete," his father, Mayor Charles Sammarone, said about the restaurant business — but not specifically Dooney's. "You're always readjusting. If you're doing good, you can't be satisfied. You've got to keep improving, always work hard and do better tomorrow."
Twenty to 25 years ago, "when something closed downtown, nothing took its place. It stayed closed for 10, 15 years. Now when something closes, usually something else takes its place," the mayor said.
And that is happening downtown.
Taking places
A former vacant space at 17 W. Federal St. houses the recently opened Avalon Pizzeria, and the One Hot Cookie bake shop opened earlier this month at Erie Terminal Place on West Commerce Street in a formerly abandoned railroad terminal.
Along West Federal Street, the former Barley's Pub is being converted to Liquid Blu, a Las Vegas-style nightclub; the former William Leonard Extraordinary Gentleman spa and barber shop will be the home of Friends Roastery coffee house; and the previous location of Two Guys clothing store will become Sugar Plum, a luncheonette and bakery. All are set to open this summer.
Liquid Blu is being remade with a custom bar, VIP areas, a dance platform and private rooms in an effort to attract an upscale clientele. Dennis Paige, assistant manager, said Liquid Blu will provide a taste of big-city nightlife. It will
include a kitchen that will specialize in seafood items such as shrimp cocktail and crab cakes.
Lyndsey Hughes, the city's downtown director of events and special projects, said the market is there for such ventures. "But it's up to the businesses to capture it and keep people coming back," she said.
"When there is no competition in the area, it's easy," said Richard Hahn, president of Keynote Media Group, a downtown marketing firm, and member of the newly formed Downtown Business Alliance of Youngstown's steering committee. "But competition
requires you to up your game to a greater degree. Those who don't will have problems."
When the V2 Wine Bar Trattoria
opened in 2011, it was a game changer for downtown because its owner had several years of restaurant experience operating Vernon's Cafe in Niles, Hahn said.
"You have to be more defined in what you are," he said. "If you can't do that, you're not going to compete with Vernon's. The downtown restaurant market isn't saturated. Those that closed or are struggling didn't up their game."
"Restaurants have to reinvent themselves because they don't have a long life expectancy," said T. Sharon Woodberry, director of the city's economic development office. "The success rate is higher when you have someone with
experience and the business savvy. Others can succeed, but it's more of a challenge."
The restaurant business is a tough one. According to the
National Restaurant Association, 30 percent of restaurants fail within their first year.
"If you live in Canfield, Poland, Boardman or wherever, there's hundreds of places to eat," Chris Sammarone said. "Are you going to come home from work, get in your car and deal with traffic just to come [downtown] and grab something to eat on a regular basis?"
The question is an important one for many restaurateurs downtown, not only as they compete with the Valley's suburbs, but as they wrestle for business among themselves, especially as more open, and
dining options increase.
The problem has laid bare the need for further economic development in downtown Youngstown. Developers say three critical pieces of the puzzle are missing: retail, housing and hotel lodging.

more apartments
Despite the challenges, there have been a number of bright spots. In the last year alone,
several downtown projects have been announced or completed.
Renovations are under way at the Gallagher Building at North Hazel and Commerce streets, where 10 apartments are planned, in addition to a high-end burger restaurant
and coffee bar.
In recent years, Erie Terminal Place, the Federal Building and the Realty Towers have been built to provide a crucial demographic — young professionals — with a place to call home. All are either fully or nearly fully occupied.
Leading the charge on upper-scale downtown housing is the NYO Property Group.
The company owns Erie, Realty, the Flats at Wick student housing complex along with several other downtown properties.
The company's next project is transforming the long-vacant Wick Building at 34 W. Federal St. into a 52-unit rental and extended-stay living facility, said Dominic
Marchionda, NYO's managing member.
The clock is ticking with the project having to start by August or the company will lose the $3,667,500 in state and federal tax credits, he said.
It will take about a year to complete the project. Of the 52 units, about 16 to 20 will be extended-stays to temporarily fill the need for a downtown hotel, Marcionda said.
Also, a deal with a nationally
known hotel chain to build a 110-room hotel at the Stambaugh Building, 44 E. Federal St., should be announced shortly, he said.
The hotel — with a banquet facility, catering business and retail on the first floor — would cost about $20 million to $25 million, and is entirely contingent on the project qualifying for about $11 million in state and federal tax credits,
Marchionda said.
NYO should know in the next month or two if it will get the tax credits, he said. If not, Marchionda said he's very optimistic the
project will get the state and federal credits in the near future.
Even if all goes well, the project will take quite some time. Work would start in about a year, and the project would take about 18 months to complete, he said.
"A hotel with a brand name is critical to the success of downtown," Keynote Media's Hahn said. "That's a difference maker. If you get a hotel, other brand names will come here."
Woodberry said there is a "market and a need for a hotel downtown. A downtown hotel makes sense. It would be successful. It's important that it be a name-brand hotel. People feel comfortable with a brand-name hotel."
But it likely won't result in brand-name retail stores coming downtown, she said.
RETAIL STRUGGLE
"Getting retail downtown in
cities that are trying to rebound is a common struggle," Woodberry said. "Those who will succeed will be local entrepreneurs with a good product. I don't see a Macy's downtown. But small niche boutiques would do well. Two Guy's Clothing has done well, so well that its owners opened Two Girl's Clothing, both in the city-owned 20 Federal Place office/retail building.
NYO is talking with a couple of delis, a spa company, a major chain drug store and a major coffee house about coming downtown, Marchionda said. He did not disclose
the names of the companies.
"If we get the right mix of retail down here, people will come," he said.
Among the other large downtown buildings owned by NYO is the former Legal Arts Building, 101 Market St., which is vacant, and 16 Wick Ave., the former home of a PNC Bank, that is about 20 percent occupied.
In order to reach a critical mass that can sustain true growth downtown, downtown's economy will need to diversify by growing its population and providing the kind of entertainment, retail and job opportunities that can sustain it.
"The thing about effective retail is you want to be able to use it more than just once a day," said Jack Kleinhenz, chief executive of the Cleveland-based consulting firm Kleinhenz & Associates. "Part of the challenge for older cities like Youngstown, Akron and Cleveland is that there isn't enough people living in the downtown to use
retail around the clock."
When the population grows, Kleinhenz said, demand for retail does too, and businesses begin to concentrate downtown. In this way, he said, housing is a precursor
to any future growth.
In Cleveland, for example, where downtown revitalization efforts have been ongoing since the late 1980s, housing has always been a major focus, said Joe Marinucci, president and chief executive of the Downtown Cleveland Alliance.
"Essentially, the way we've done it has been through a very aggressive adaptive reuse strategy," Marinucci said. "We've really utilized historic tax credits, grants and state awards to renovate buildings and make more units available."
Through private sector and public partnerships, and an aggressive financing strategy, Cleveland was able to double its downtown population between 2000 and 2010. Cleveland's downtown is home to 11,700 residents, a number that is projected to grow by 3,000 in the next 18 months as more renovations near completion.
A large part of the problem, in places like Cleveland and Youngstown, Marinucci said, is demand for real estate is not strong enough for property developers to recover their investments. On a square-footage basis, the rent they can charge is too low, making
public financing a necessity.
This is why Cleveland is aiming to reach a downtown population of between 20,000 to 25,000 in the coming years to help bring demand up and attract both big name retailers and smaller outlets that help diversify what Cleveland has to offer.
Joe Bell, director of corporate communications at the Cafaro Co. in Youngstown, said the city's downtown is sorely lacking similar initiatives.
Cafaro Co., owns and operates the Eastwood Mall Complex in Niles. It purchases real estate and leases the space to retailers in 50 shopping centers across 11 states, including a large mall in downtown Charleston, W.Va.
"Unfortunately, there's just not an impetus there for us to want to acquire land in downtown Youngstown," Bell said. "There needs to be a change in living patterns. There has to be something that creates a core of residents in or around the downtown area. Retailers aren't going to build or lease space in an area they don't believe their products will sell."
not alone
Youngstown is not alone in confronting challenges in its downtown. For decades, jobs have been shed in central business districts across the country as Americans shifted their lifestyles to the
suburbs.
A recent report, released by the Brookings Institution, a think-tank in Washington D.C., showed the majority of Youngstown's jobs, about 45 percent, are concentrated between 3 and 10 miles from downtown.
The figure is in line with other metro areas across the country, said Elizabeth Kneebone, a fellow at Brookings' Metropolitan Policy Program that authored the report.
But Youngstown has fewer jobs than many other cities across the country, which means it's less centralized. Kneebone said an area like Youngstown, which has long been a home to manufacturing companies that require larger plots of land on the city's outskirts, is prone to sprawl.
She added that policies to grow a city's downtown also rely on the suburbs. Policies aimed at economic growth have to be a regional effort, she said, so that areas like Boardman and Youngstown, for example, are not competing with one another for jobs and residents.