Buy and buy, Girls Night Out offers fun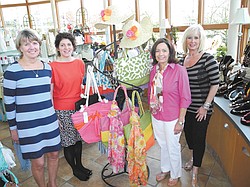 Photo
SPECIAL TO THE VINDICATOR Hard work goes into organizing Girls Night Out, an annual event that helps to support Fellows Riverside Gardens in Mill Creek Park. Some of those involved are, from left, Jody Vernal, Sharon Carbon and Janey Donadee, Girls Night Out committee members and board members of Friends of Fellows Riverside Gardens; and Jeanne Simeone, buyer for the Shop in the Gardens. Because the annual event has proved to be so popular and sells out quickly, they have decided to extend the show to two days this year. Patrons of Girls Night Out can choose May 21 or 22.
Staff report
YOUNGSTOWN
The newest fashions, accessories and other merchandise will be showcased for sale at the annual Girls Night Out in Mill Creek MetroParks' Davis Center, scheduled for 5:30 to 8:30 p.m. May 21 or 22. Women have a choice of attending either day.
Patrons will be able to explore the special offerings available at the Shop In The Gardens, 123 McKinley Ave., at Fellows Riverside Gardens, where Friends of Fellows Riverside Gardens members will receive a 20 percent discount, and nonmembers, a 10 percent discount. Memberships will be sold that evening.
Unique and specialty vendors will offer their goodies for sampling and purchasing. For the second half of the evening, women can relax in the Rossi Auditorium and be able to enjoy food by David Armstrong's Cater 2 U, see a demonstration of container planting by a Lutz Greenhouse representative, watch dance performances sponsored by Fred Astaire Dance Studio and bid in a silent auction.
To register for tickets, which cost $25 each, call 330-740-7116, the number for Mill Creek MetroParks.
Reserved seating is available for a table of 10 for $300.
All proceeds will benefit Fellows Gardens and Mill Creek MetroParks.