YSU's first presidential finalist meets faculty, students, community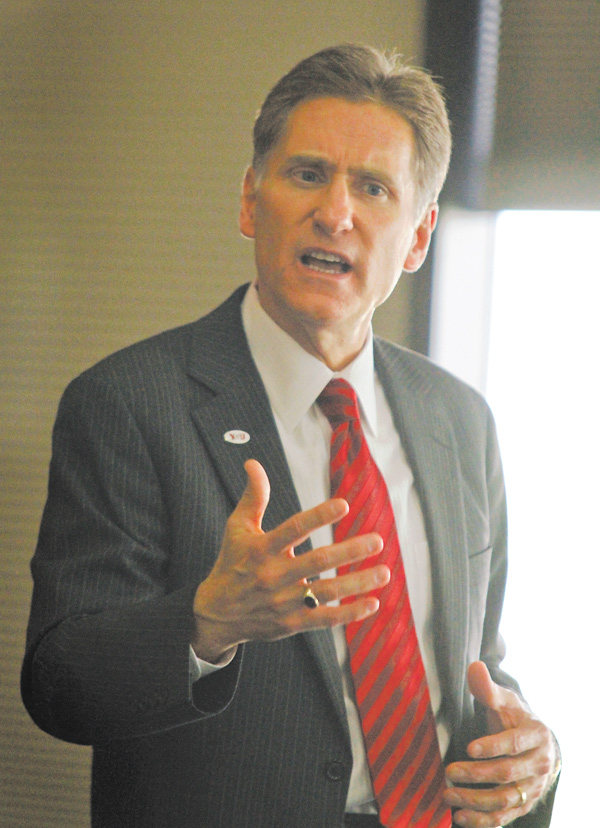 ---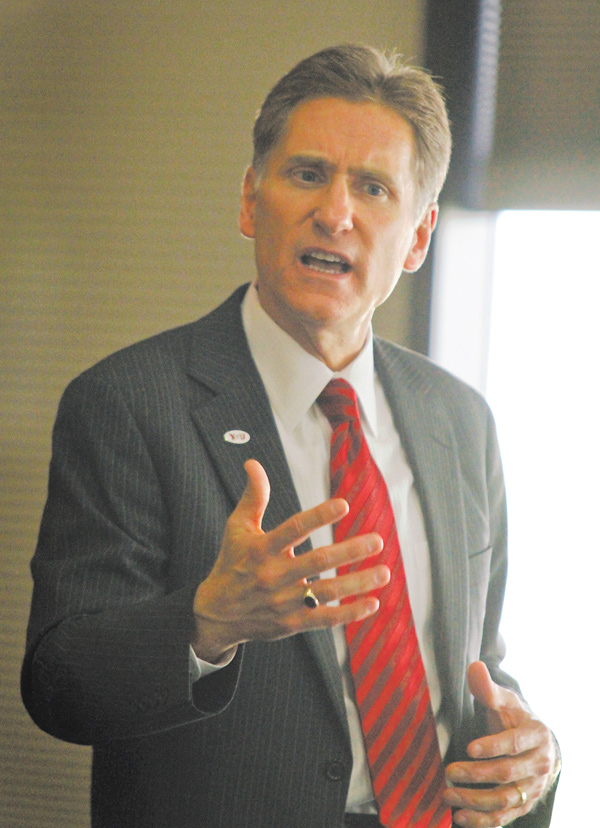 Photo
Randy Dunn, one of three finalists for YSU president, addresses an open forum Thursday on campus.
By Denise Dick
Youngstown
The first finalist for Youngstown State University president believes the university's research efforts should be focused on the needs of the community.
"The first thing we have to remember is what we are," said Randy J. Dunn, 54, president of Murray State University in Kentucky. "We don't want to be a community college on steroids."
At the same time, YSU isn't an Ohio State University either.
"Research efforts should be on ways they can be applied to the area in which we exist," he said.
Part of the university's strategic plan aims to make YSU an urban research university.
Dunn is one of three final- ists to replace Cynthia E. Anderson, who is retiring July 1 after three years as president. He met Thursday with members of the faculty, students and the campus community before an invitation-only community reception.
More than 20 students attended that session with more than 50 people drawn to the campus community forum.
Dunn formerly served as Illinois state schools superintendent and as a professor at Southern Illinois University in Carbondale, assistant professor, school superintendent and principal. He has a doctorate of education from the University of Illinois and master's and bachelor's degrees from Illinois State University.
Dunn also is one of four finalists for president of Illinois State University.
The other two YSU president finalists are James D. Moran III, vice chancellor for academic and student affairs, Pennsylvania State System of Higher Education; and William R. Decatur, executive vice president for finance and administration, chief financial officer and treasurer at Rhode Island School of Design in Providence.
They are scheduled to visit campus Monday and Wednesday, respectively.
Dunn also talked about the need to boost enrollment and increase retention.
If selected, he said he'd try to push more into the Cleveland market to be a destination institution for more first-time freshmen.
At Murray State, which he says is similar to YSU, a program was developed to provide last-dollar financing to students who otherwise would have to drop out of school midsemester because they run out of money.
YSU also has to figure out a way to work with nontraditional students who are prone to leave school because of work or family obligations.
"There's no magic bullet on this," Dunn said. "It's all of the above."