Local gymnasts compete at Level 8 regionals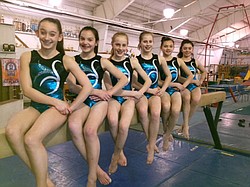 Photo
Neighbors | Submitted .Competing at the USA Gymnastics Level 8 Regional Championship was, from left, Lauren Manski, Ashley Jones, Mya Kasten, Megan Janak, Tamsin Day and Nicole Ruse.
The USA Gymnastics Level 8 Regional Championship was held recently at Bowling Green University. Youngstown Gymnastics Center has six Level 8 gymnasts who competed.
Megan Janak (13) of Boardman, Lauren Manski (13) of Salem, Mya Kasten (14) of Canfield, Tamsin Day (13) of Boardman, Nicole Ruse (15) of Poland and Ashley Jones (12) of Canfield too part. These girls competed on the Ohio State regional teams in their respective age groups from Ohio against teams from Kentucky, Michigan, Indiana and Illinois.
Highlights of the Regional competition include Mya Kasten placing third on floor exercise, scoring 9.475 and Megan Janak placing fifth on balance beam out of more than 60 competitors in each age group.
These gymnasts train at Youngstown Gymnastics Center under the instruction of coach Sandy Sabo and Chad Cleland. The girls train more than 20 hours per week in the gym and all maintain the honor roll in school.
"The discipline and time management skills that the sport of gymnastics teaches helps students like these to do well in their studies," said Sabo. "These girls began training gymnastics as preschoolers and have all been competing since about the age of 6."