Local gymnast earns state championship

Photo
Neighbors | Submitted .Shane Lindstrom met Blaine Wilson, 2004 Olympic gymnastics silver medalist, after a meet in Columbus earlier this year.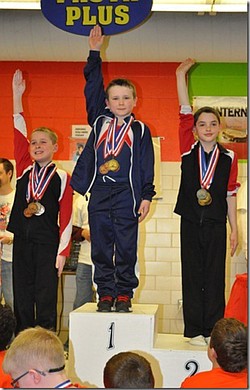 Photo
Neighbors | Submitted .Shane Lindstrom (center) salutes after receiving gold on the high bar at the 2013 Ohio State Championship on March 24.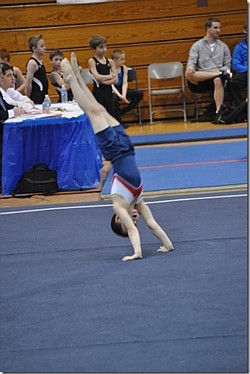 Photo
Neighbors | Submitted .Shane Lindstrom competes in the floor competition during thte state championship on April 24.
Canfield resident Shane Lindstrom became the state champion in his age group on high bars on March 24.
The 8-year-old, who attends St. Charles in Boardman, is a Level 5 competitor in USAG Mens Gymnastics. His score at state — fifth on parallel bars, fifth on floor, seventh on still rings and sixth overall — qualified him for the Region 5 Regional Championships in Chicago.
Region 5 is comprised of five states, including Ohio, Michigan, Illinois, Kentucky and Indiana. He took 11th overall, tying for second on vault, sixth on the high bar and eighth on floor. Lindstrom practices at Olympic Dreams Gymnastics in Liberty.