It's hammer time for McDonald's Tayala at Kent State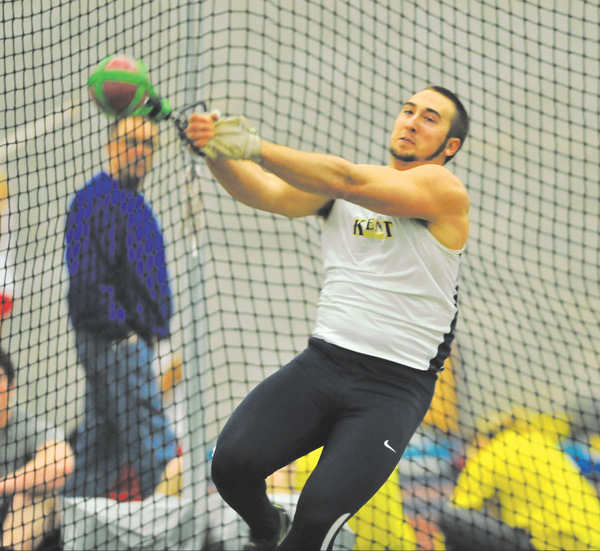 ---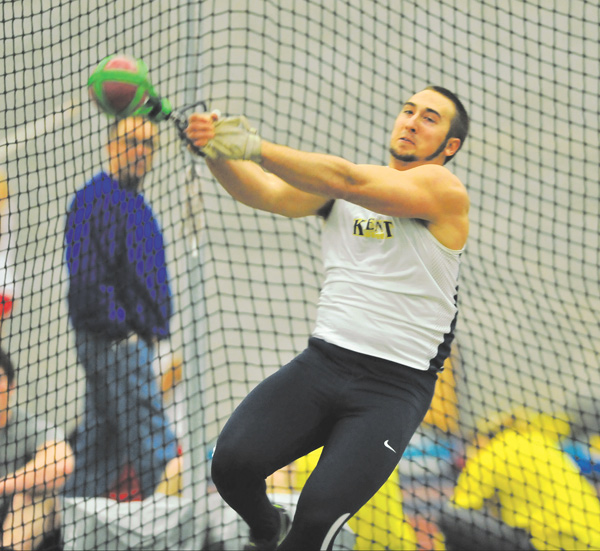 Photo
Kent State University's Matthias Tayala throws the hammer during the state indoor track meet Feb. 16. Tayala, a McDonald High graduate, put up the best mark and earned gold for the Flashes at the Penn Relays on April 24 with a throw of 217.8 feet.
KENT STATE THROWER matthias tayala HAS MASTERED A NEW EVENT
By TIM DURR
Two years ago, Matthias Tayala's personal best in the hammer throw was non-existent because he'd never even thrown the hammer before.
Fast forward to the Penn Relays last weekend and not only did Tayala put together a personal best of his own at 217 feet, 8 inches, he put up the best record at the meet and won gold for Kent State.
"I just treated it like any other meet," said Tayala, a McDonald High graduate. "Even though it was bigger than usual, I just did my normal routine and it came together."
While he treated the Penn Relays like any other meet, it's been a quick rise to forming a routine that gets him personal bests.
It started when Tayala — now a sophomore — came to Kent State and was encouraged to pick up another event along with discus and shot put.
After realizing he was pretty good at throwing the hammer, Tayala focused on improving in each meet and now it's one of his top events.
"The meet at Barcelona made me much more serious about throwing hammer," Tayala said. "When I realized I could compete against international talent and wasn't just competitive nationally or locally, it was a big boost."
His focus now turns to the Campbell-Wright Open today and Saturday at the University of Akron, where he will tune up his skills heading into next week's Mid-American Conference championships.
"Akron will get us ready for conference championships," Tayala said. "Then I'm focused on nationals and being an All-American in hammer throw and discus."
Tayala holds the 10th best discus throw in Kent State history and is looking to get up there on the list for the hammer throw with his recent personal best. His previous best for the hammer throw was 198.8 feet at last year's Campbell-Wright Open.
Miles Dunlap, Tayala's former McDonald teammate, is a sophomore sprinter and hurdler for the Golden Flashes. Former McDonald multi-sport athlete Joh'Vonnie Mosley is a junior thrower with the Kent State women's team.