Gymnast qualifies for nationals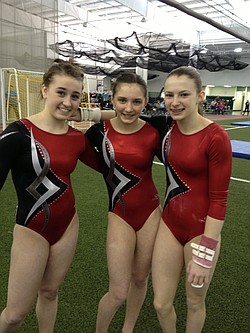 Photo
Neighbors | Submitted .The level nine regional participants are, from left, Rachel Gurgiolo, Jamie Sklenar and Anna Warhol (Poland).
The USA Gymnastics Level 9 and Level 10 regional championships were held last past weekend in Lansing, Mich. Gymnasts qualified to this competition from their respective state meets that were held at the end of March from the five state region consisting of Ohio, Indiana, Illinois, Michigan and Kentucky.
Anna Warhol (Poland), an eighth-grade student of Boardman Glenwood Middle School, qualified from this regional competition to the Level 9 nationals that will be held at the Kellogg Arena in Battle Creek, Mich., May 3-5. She placed second all-around in her age group, scoring a 37.475.
Only the top six all-arounders in each age group qualify to this USA Gymnastics national competition. This is Warhol's second time qualifying to the Level 9 National Team.
In the regional competition, she won the floor exercise event with a 9.55 and was named Regional Floor Exercise champion.
Warhol trains at Youngstown Gymnastics Center, under the instruction of coach Sandy Sabo and Chad Cleland. She trains more than 20 hours per week in the gym and still maintains the honor roll in school.