Canfield inducts new National Honor Society class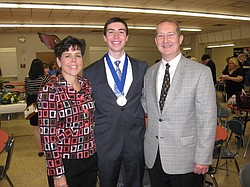 Photo
Neighbors | Abby Slanker.Ellen and David Bennett celebrated their son's, Drew, induction into the Canfield High School National Honor Society at the reception following the ceremony April 25..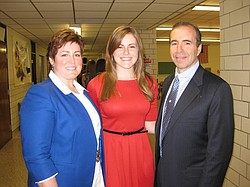 Photo
Neighbors | Abby Slanker.Canfield High School junior Norah Young, center, was escorted by her parents, Kathryn and Mowry, during the National Honor Society Induction Ceremony April 25.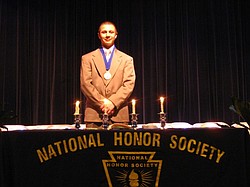 Photo
Neighbors | Abby Slanker .Canfield High School Junior Class President Kyle Hido proudly posed by the National Honor Society banner after being inducted into the society April 25.
By ABBY SLANKER
Canfield High School held its annual National Honor Society induction ceremony April 25, during which 51 students were honored.
Students inducted included: Mallory Allen, Katin Angelo, Rayann Atway, Ernie Barkett, Krystal Bates, Drew Bennett, Daniel Bogen, Dylan Bowald, Rollin Bresson, Rachel Briach, Daniel Brown, William Brown, Paige Brucoli, Dominic Carano, Allison Conroy, David Dalvin, Emily Damelio, Olivia DeMartino, Victoria El-Hayek, Megan Factor, Natalie Garritano, Crissy Gelonese, Christopher Halley, Mackenzie Hanlon, Kyle Hido, Haley Holt, Richard Jenkins, Stephanie Jickess, Nicholas Luchansky, Sara Lytle, Erin McGraw, Nathan Metze, Taylor Minenok, Edmond Pilolli, Priscilla Prologo, Angela Pupino, William Quirk, Logan Rodenbaugh, Stan Socha, Kareem Soliman, Arjun Subramanyam, Amanda Svensson, Eric Svensson, Kyle Thompson, Elizabeth Vallas, Jarret Vrabel, Tommy Warg, Adam Weiss, Michele Whiteleather, Olivia Williamson and Norah Young.
The students were escorted by their parents into the auditorium and each student was introduced to a crowd of fellow students, friends and family.
As the students were introduced, Canfield High School National Honor Society co-advisers Tim Wensel and Steve Pitts greeted them and presented them with the National Honor Society gold medal, which was placed around their neck. Students then crossed the stage and signed the membership book.
Current senior members of the society spoke on the four Pillars of the National Honor Society. Jennifer Morris spoke on Character, Michele Sorice spoke on Leadership, Emily Gianetti spoke on Service and Emily Conroy spoke on Scholarship.
"Character is doing the right thing, even if it means standing alone. Character is who you are. It cannot be given or taken away," Morris told the inductees during her speech, after which she lit the candle for character.
"Our members have made a difference in the community and should be commended for their work," Gianetti said as she addressed the audience while speaking on the pillar of service.
Judge Scott Hunter, a 1981 Canfield High School graduate and former National Honor Society member, served as guest speaker for the ceremony.
Hunter focused on the pillars of the National Honor Society.
"Membership in the National Honor Society is no small accomplishment. You are truly exceptional. You should take great pride in your membership. I assure you, years from now you still will. Character, Leadership, Service and Scholarship are not concepts which will fade upon your graduation from Canfield High School," Hunter said.
Andrew Jarvis was presented with the Leadership and Service Award, with 270 service hours with such organizations as the American Cancer Society, Salvation Army and the Junior Women's League of Canfield.