Baker pitches Canfield over Lakeview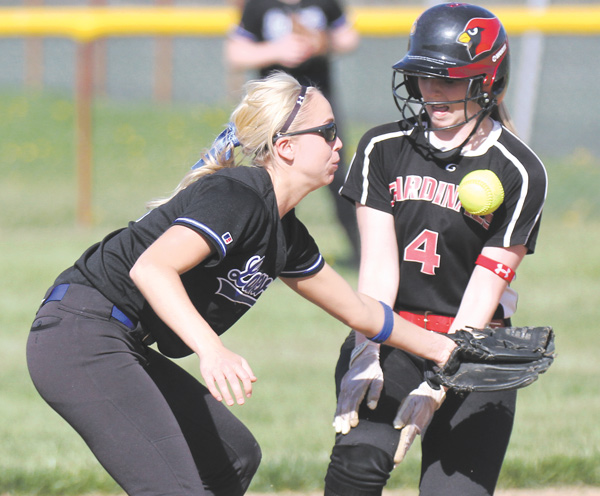 ---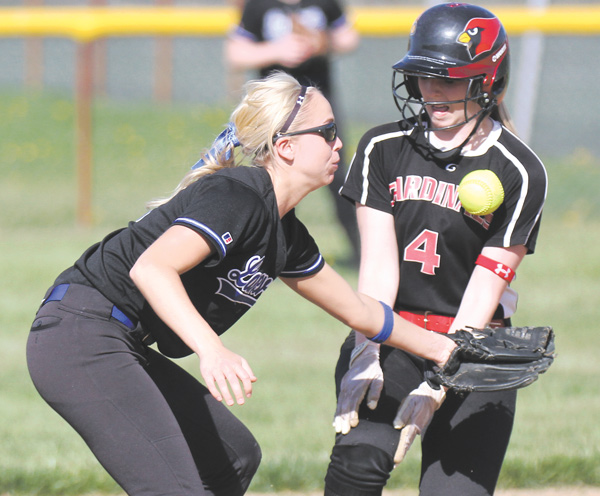 Photo
Canfield's Sydney Opladen is safe after stealing second base as Lakeview's Taylor Waid misses the throw during their game Thursday in Canfield. The Cardinals cruised to a 7-3 win over the Bulldogs behind senior Abby Baker, who pitched a two-hitter and struck out four batters.
By Brandon Judeh
Canfield
Canfield senior softball pitcher Abby Baker has been busy over the past month.
She earned a scholarship to Wittenberg University, defeated defending state champion Elyria and beat All-American Conference rival Poland twice.
On Thursday night she and the Cardinals cruised past Lakeview, 7-3.
After months of debating, Baker decided to attend Wittenberg, which is located in Springfield, for many reasons. The deciding factor came down to her future.
"My choice focused around academics first and foremost — they have an amazing school," Baker said. "The atmosphere is great and they have a great softball team. They finished this season with their best record ever.
"The location is awesome."
With Springfield just 30 minutes from Columbus, Baker says her parents will be able to see many of her games.
"I want my parents [Kirk and Lisa] to be a big part of the next four years," Baker said. "Growing up my dad was my coach, so I wanted him to be a part of my college experience."
Baker joins her dad [Bowling Green] and brothers, Chad [Pittsburgh] and Sean [Ball State] as the latest Baker to earn a scholarship.
Chad played baseball at the university of Pittsburgh and both Kirk and Sean played football, with Sean being signed as an undrafted free agent by the Tampa Bay Buccaneers practice squad during the 2012 season.
"My brothers are the biggest role models that I could ever ask for and it's really cool to be able to follow in their footsteps," Abby said. "I grew up on the baseball field, football field and basketball court so this is a really big thing."
Most student-athletes may have felt a lot of pressure if they were in the same situation Baker is in, but not her.
"The only pressure I ever felt was when my brothers were throwing the baseball at me really hard," she said.
Before Baker heads off to play Division III ball, she knows she has plenty of unfinished business left in high school, including setting her sights on a district title.
"I was a part of two in a row in basketball, so now my goal is to get a district medal in softball and hopefully a regional and state title as well," Baker said. "That would be a great way to end my senior year."
Baker pitched a two-hitter as she cooled the Bulldogs bats on Thursday evening. She struck out four.
The Cardinals scored four of their seven runs via Bulldogs' errors, something Lakeview head coach Vicki Lawrence hopes changes come tournament time.
"I'm thinking we won't have those errors once the playoffs roll around, but I have faith in my girls and eventually we have to catch some breaks on the offensive end," Lawrence said.
Caitlin McDivitt and Haley Ball had the lone hits for Lakeview.
Canfield's Amelia Manenti had a two-RBI double and Sydney Opladen went 2 for 4 with an RBI.