Penguins split doubleheader in McCune Park finale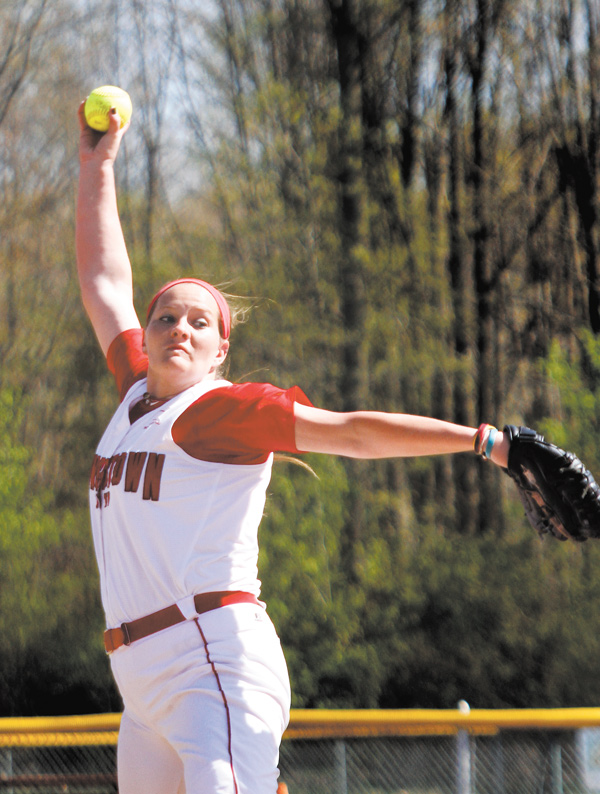 ---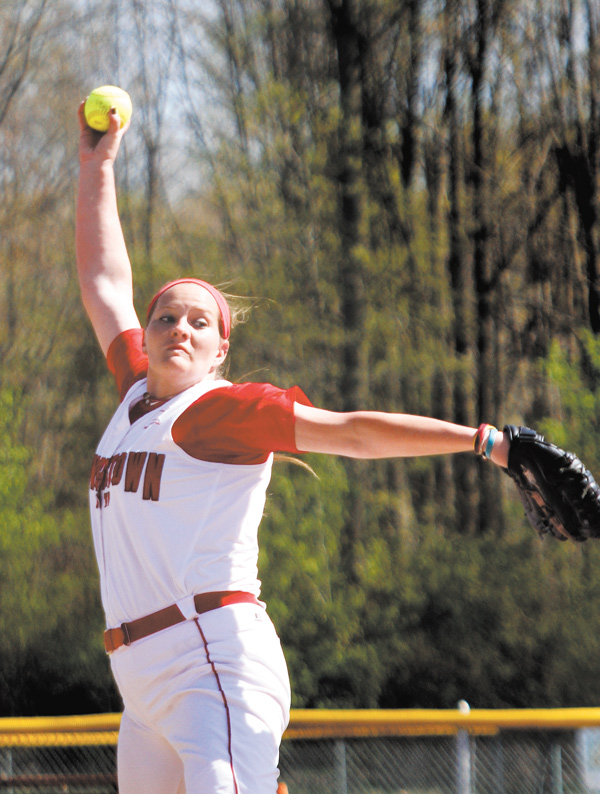 Photo
YSU's Hana Somogyi winds up on the mound during the first game of a doubleheader against St. Bonaventure on Wednesday at McCune Park in Canfield. The Penguins downed the Bonnies, 7-1, but lost the nightcap, 7-4.
By Joe Catullo Jr.
CANFIELD
The stage was set. No clouds, the sun was shining bright and the Youngstown State softball team ran on the field at McCune Park for the final time while a new field is being built on Fifth Avenue.
Already with a 7-1 victory over St. Bonaventure in the first game of a doubleheader on Wednesday, Hana Somogyi looked to wrap things up with a three-run lead in the second game and end the 12-year run at Canfield on a high note.
Instead, the Bonnies pulverized Somogyi and Casey Crozier, scoring six runs on six hits, including a pinch-hit grand slam from Lauren Waite, before recording an out as YSU lost 7-4.
"Their bats just came alive," Vicky Rumph said. "I haven't seen that from them all game."
Before the six-run outburst by the Bonnies (10-40), Somogyi kept them off balance through 13 innings. She went the distance in the first game and allowed one unearned run on nine hits, four walks and two strikeouts.
In the second game, she pitched six innings and allowed five runs (four earned) on five hits and picked up the loss. She was pitching a two-hitter before the seventh inning.
"That was unbelievable," Rumph said. "I haven't seen Hana do that since I've been here. I'm just so proud of her for that performance. She didn't even weaken in the second game. If anything, I thought she pitched stronger."
Somogyi was one of four YSU seniors to play in their final home game along with Sarah Gabel, Caroline Krombach and Rumph.
"It's like reality hasn't hit me yet," Somogyi said. "It's normal, I guess. It's fine right now. I feel like next weekend and after the conference tournament, I'm going to cry."
Rumph ended her home career with a bang. She hit a two-run homer in the first inning of the second game and became YSU's all-time RBI leader, surpassing McKenzie Bedra with 120.
"Well-deserved, and she's just a wonderful young lady and really a big asset for us for four years," YSU coach Brian Campbell said. "I couldn't be more proud of the achievements she's received individually and getting that record, too. It's been a joy coaching her for four years. She's just a leader all-around."
Rumph said she was happy that it happened at McCune Park.
"It was nice that it happened at this field because I actually really like it here," she said. "It's a great way to go out from McCune Field."
YSU (15-23) will conclude its regular season at Valparaiso on Saturday and Sunday. With an 8-10 conference record, YSU ranks sixth and the Penguins are fighting for a tournament spot. Seventh-ranked Green Bay is three games behind YSU, and six out of eight teams make the tournament.
"I just think we need to take that momentum and aggressiveness offensively against Valpo," Gabel said. "There's still a chance we won't make the tournament, so we just need to go out there and play like we've been playing, and we'll be fine. We'll make tournament.