Kent State rallies past YSU baseball team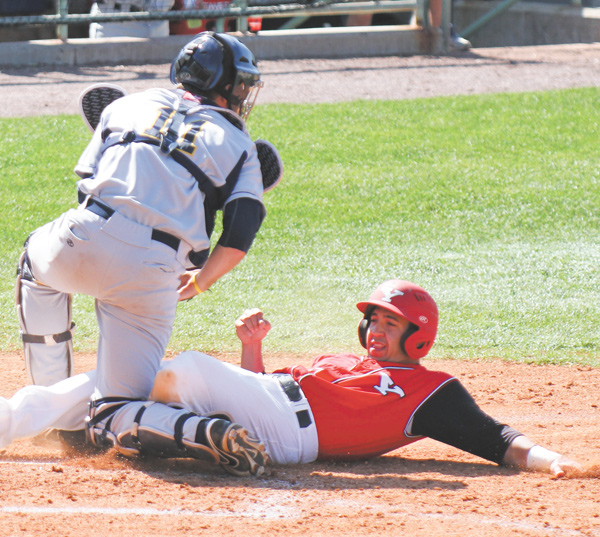 ---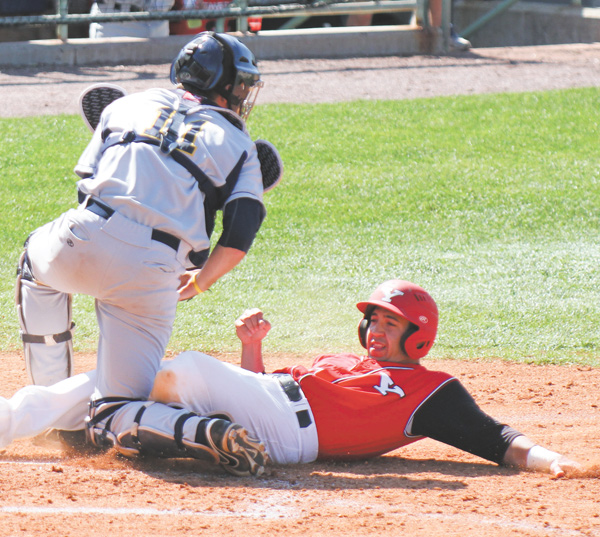 Photo
Youngstown State's Nick DiNello is tagged out at home by Kent State catcher Tommy Monnot during Wednesday's game at Eastwood Field. The Golden Flashes edged the Penguins, 9-8.
KSU slips past Penguins
By Steve Wilaj
NILES
To the untrained eye, it would appear the deciding blow in Youngstown State's 9-8 loss to Kent State on Wednesday came when the Penguins blew a one-run, ninth- inning lead.
But YSU head coach Steve Gillispie has another theory.
"I don't think the game was necessarily lost in the ninth as much as it was lost in the fifth and sixth innings," he said.
After taking an 8-3 lead through four innings at Eastwood Field, the Penguins allowed KSU (25-20) to score four runs combined in the fifth and sixth innings. Also, YSU left six runners on base and collected only one hit in those innings.
"To me that was a much bigger time than the ninth," Gillispie said. "Obviously we wanted to close it out with the lead, but it shouldn't have been that close because we weren't very good in the middle innings."
Tied at 1 after the first inning, the Penguins (13-32) used a four-run second inning and a three-run third inning to take the commanding five run lead. Both innings were keyed by YSU catcher Josh White.
He brought home two runs with a single in the second inning before knocking a bases-loaded double in the third inning that scored three more. But that was the last time a Penguins runner would cross the plate.
"It's a positive that we scored like that," said White, who finished the game 4 for 5 with six RBIs. "But the thing is we left a bunch of blank numbers up there after the fourth inning. We have to keep scoring when we have a lead like that."
The Flashes' three-run fifth inning was keyed by an RBI single by Jason Bagoly. They added another run in the sixth on Evan Campbell's second sacrifice fly of the game to cut the Penguins lead to one run.
The damage was done against YSU relievers Lance Horner, Erik Okelson and Robert Switka.
"The consistency of our middle relievers hasn't been good and we've been trying to redefine some roles," Gillispie said.
In all, the Penguins bullpen allowed five earned runs in six innings of work while walking seven.
"We just have to come in and throw strikes," White said. "Walking guys and pegging guys is the worst thing we could do. If we throw strikes and let our defense make some plays, it's a whole different story."
YSU still took an 8-7 lead into the ninth inning, but consecutive errors by Penguins shortstop Phil Lipari helped KSU gain the lead.
A throwing error put runners on first and third. That was followed by a booted ground ball, which allowed the Flashes to tie the game at 8. They took the lead on a run-scoring double play groundout by Evan Campbell.
"Yeah, that's a tough way to lose," Gillispe said. "But it wasn't necessarily lost there."
Kent State second baseman Derek Todavine reached base safely and scored in all five plate appearances. He finished 2 for 3 with two walks and four stolen bases.
Bagoly, an Austintown Fitch graduate, went 2 for 5 with an RBI.
"I've just been trying to stay positive and hit the ball hard," said Bagoly, who holds a .277 batting average. "Just have a good at-bat and hit it hard somewhere."