YSU President Anderson bids farewell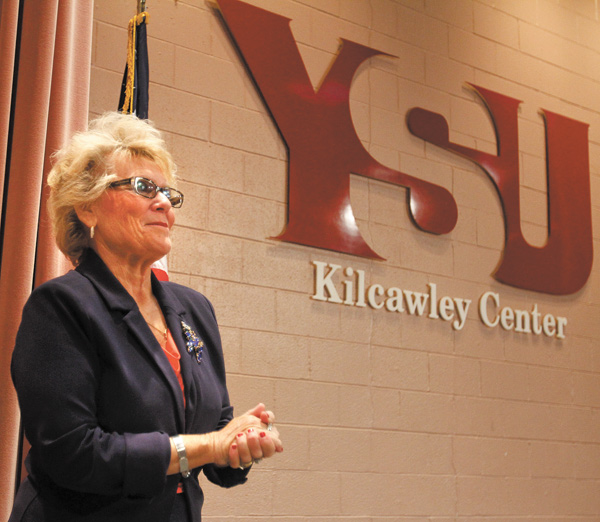 ---
YSU President Anderson Final Speech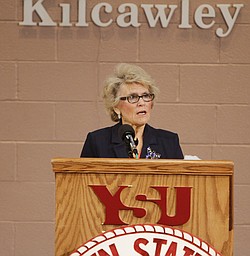 Video
Outgoing Youngstown State University President Cynthia E. Anderson wants people to remember her as a "good and decent person whose career passion was to serve students in any way she was capable." "What could possibly be a better legacy than that?" Anderson said Tuesday during her final State of the University address in Kilcawley Center's Chestnut Room. Anderson supporters and members of the YSU community, some wearing "Thank you Dr. Anderson" buttons, filled the room. The buttons were donated by Bruce Sherman of Sherman Creative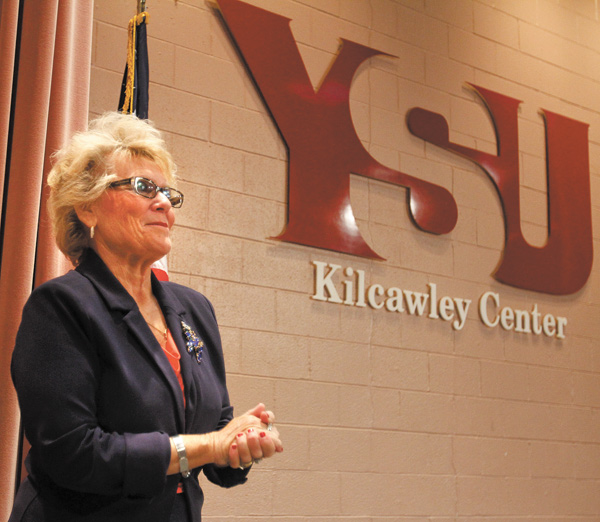 Photo
Cynthia E. Anderson, outgoing president of Youngstown State University, received a standing ovation Tuesday for her years of service at the end of her last State of the University address. Anderson is retiring July 1 after three years as YSU president and has been at the university nearly 40 years.
By DENISE DICK
denise_dick@vindy.com
YOUNGSTOWN
Outgoing Youngstown State University President Cynthia E. Anderson wants people to remember her as a "good and decent person whose career passion was to serve students in any way she was capable."
"What could possibly be a better legacy than that?" Anderson said Tuesday during her final State of the University address in Kilcawley Center's Chestnut Room.
Anderson supporters and members of the YSU community, some wearing "Thank you Dr. Anderson" buttons, filled the room. The buttons were donated by Bruce Sherman of Sherman Creative Promotions Inc. Sherman is past president of the YSU Alumni Society and a current member of the board.
After three years as president and nearly 40 years at YSU, Anderson will retire July 1.
Three finalists have been selected as potential successors and will visit campus beginning Thursday.
"While I don't play any formal role in the process, please know that I will have the opportunity to tell each candidate that the greatest resource, which Youngstown State University has and has always had, is its human resource," Anderson said.
She also talked about the challenges the university has faced during her tenure and will continue to face.
"As the campus knows all too well, we have experienced a temporary decline in enrollment numbers — thus translating into declining revenues," Anderson said.
Fall 2012 enrollment slipped 5 percent to 13,813, compared with fall 2011's 14,540. The number of students enrolled also fell the previous year from 15,194 in fall 2010 to 14,540 in fall 2011.
She said the faculty and staff helped the university respond.
YSU has streamlined processes, left positions vacant, changed health care plans and reduced the budget by more than $2.5 million, the president said.
"I put those remarks into a cautious and pragmatic perspective," she said. "As I turn the leadership of this university over to a new president, I have been insistent that our plans for the coming fiscal year are comprehensive and have asked the vice presidents to coordinate planning for alternative spending scenarios. We have got to continue to be diligent with our funds."
Anderson also touted the accomplishments of several students.
Julie Sole is employed as an engineer at V&M Star. Cary Dabney, a senior, earned a dean's fellowship to Harvard University. Cory Okular was awarded a full assistantship at the University of Notre Dame.
"We have every reason to brag about our students," she said.
Okular praised Anderson for her involvement with students.
She's friendly and outgoing and genuine, he said.
"What you lack in height, you make up for in heart," the student said.
Anderson has been a friend to students, Okular said.
"You set the standard for how a president should interact with students, how a president should reach out to students," he said.