Published: Wed, May 1, 2013 @ 12:00 a.m.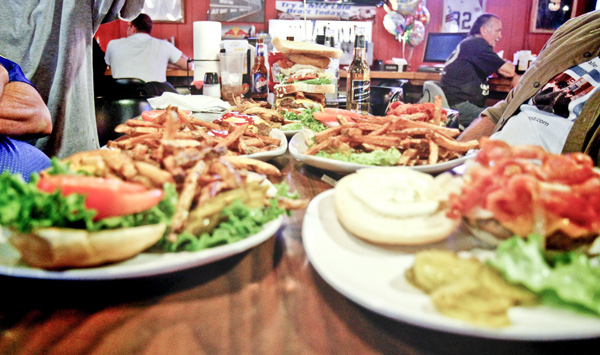 Photo
The meals served to the Burger Guyz at the Ice House Inn in Austintown
If You Go...
Where: Ice House Inn
Address: 5516 W. Webb Road, Austintown
Phone: 330-544-8800
Hours: 11 a.m. to midnight Sunday, 11 a.m. to 1 a.m. Monday through Thursday and 11 a.m. to 2:30 a.m. Friday and Saturday
Website:www.icehouseinn.com
A lot of people wonder how we get to our star rating. We actually have a score sheet, and for the Ice House we came up with a score of 3.1. To see the complete breakdown of its burger and further explanation of how we get our final numbers, go to vindy.com/weblogs/burgers
Local bands rock the place each weekend.
By Anthony M. FUDA | mvbrb@hotmail.com
AUSTINTOWN
One of this area's favorite bars features local bands and is thought of as the best place in the area to watch NASCAR, but when you talk about the Ice House Inn, the first thing out of anyone's mouth is, "It's the place with the upside down sign."
We found ourselves in the middle of it all for this month's burger review.
The Ice House Inn is located in Austintown and is rocking every weekend with music from your favorite local bands like Edison's Medicine and G-Force. There are TVs throughout the building so you don't miss any of the action of your favorite sporting event. But here, NASCAR rules, so these TVs are dialed in to every lap of each race. In the warmer months, you can play volleyball out back in the sand.
When we went, the eatery was pretty packed, but we made our way to a comfortable table in the center of the action. Our waiter, Greg Dominic, made sure we had everything we needed to enjoy our burger evening.
We searched the menu for the burger section looking for those catchy burger titles. This menu was pretty simple. Under the burger heading, your choices were: 1/4 lb - $5.99, 1/2 lb - $6.99, 3/4 lb - $7.99, and the full 1 lb - $8.99. There is also a "Lil" Layton Burger for $9.99. There are also burgers on the daily special menu which vary day-to-day.
You can add extra fixin's to any burger, but each item comes at a price: lettuce, pickle, onion - 25 cents each; cheese - 75 cents; tomato - 50 cents; grilled peppers, onions, mushrooms - 75 cents each; and bacon - $1.00.
A burger not on the menu, but frequently requested is the Ice House Challenge Burger: Two pounds of beef with any toppings you want on it. This monster comes with two pounds of fries and a pound of coleslaw. You have 30 minutes to finish everything to earn bragging rights. If you can't eat all of it, you are stuck with a $22.99 bill.
Many people tried the challenge, but only three people have succeeded. If you would like to be the fourth to conquer this foe, bring an enormous appetite and a will power twice as big.
None of our stomachs had the capacity to attempt the challenge, and our challenge expert was under the weather, so we opted for burgers from the regular menu.
We varied between the 1/2 lb or the 3/4 lb burgers, except for Eric, who went with the "Lil" Layton.
The "Lil" Layton may not be a challenge burger, but it is a behemoth all to itself. You have a choice of chicken, sausage or hamburger on a triple-decker bread piled 12" high, with lettuce, tomato, bacon, coleslaw and onion rings, and American, provolone, hot pepper and Swiss cheeses.
The burger is so big, it is brought out with an extra thick, extra long 14" skewer holding everything together.
Eric said, "This burger is great value because of everything that comes with it."
After the rest of us finished our burgers, we looked over and had to laugh as we saw the carnage Eric left from his "Lil" Layton.
A generous portion of thick, fresh-cut fries complements each burger.
We all agreed the beef was lightly seasoned, cooked well and retained just enough burger juices so as to not dry it out.
The toppings were very fresh and crisp. It was like the lettuce and tomatoes were just picked from a garden outside the restaurant, sliced and put on the burger right before they were brought to us.
The buns were soft and fresh, and kept the toppings and juices sealed inside, straining a little towards the end, but overall a good bun.
I went with a half pound burger, adding lettuce, tomato, pickle and cheddar cheese. I thought this was a good back yard burger; not overpowered by seasoning, but just enough flavor in each bite to keep you wanting more. The kicker for me was the toppings. The freshness really added to the taste of the burger.
JT had a half pounder and said, "The bacon was deep-fried, so you know it was crisp. The lightly seasoned beef patty was well-done instead of the medium-well that I ordered. But I'm flexible."
Johnny upped his burger, going with the larger patty, and noted, "The burger was well done, but juicy and nicely seasoned. My bun fell apart, because of the size of the 3/4 pound patty. I give it a 3 on my wet nap scale."
Looking around the bar, you can tell the Ice House supports the area's local bands, with signs hanging throughout the building so you can mark you calendar accordingly.
The Ice House is also known for having one of the biggest bike nights in the area, which is held Tuesdays as soon as the weather permits - if not sooner for the all the diehards.
But NASCAR is king here, so whether you are rooting for Jeff Gordon or Dale Jr. on race day, or just cruising around the area on your motorcycle, look for the checkered flag and the upside down sign and have one of these tasty burgers.
Keep sending all the great burger suggestions to mvbrb@hotmail.com, and like the Facebook page BurgerGuyz to keep up with all your latest burger news.