Youngstown Magic Club member Bob Filips has a ... Magical life journey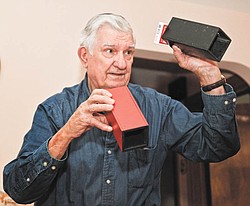 Photo
Bob Filips shows off some of his magic tricks. He has belonged to the Youngstown Magic Club since he was 15.
By JoAnn Jones
YOUNGSTOWN
When Bob Filips was a 12-year-old living in Youngstown over 70 years ago, he paired up with his neighbor Jimmy Williams as a magic act known as Hocus and Pocus. They put together a show in Williams' basement and sold tickets to their neighbors.
They tied string to a paper baby doll and cut a hole in the upstairs floor so they could make the doll disappear. What disappeared, however, was their magic show and partnership.
"Jimmy's father came home and found the hole," Filips said with a chuckle. "Jimmy had to give up magic, but I continued as just Hocus."
This little setback didn't deter Filips, whose love for magic began when he was 9 and saw a "Magic Made Easy" display near the Frozen Custard Stand in Youngstown. Three years following the disastrous hole in the floor, he was introduced to real magicians and the Youngstown Magic Club, where he has been a member for almost 70 years.
"I joined June 1, 1943," Filips said. "A fellow came and picked me up and took me to the meeting. I've been through all these offices and have been the chair for several committees for International."
"International" is the International Brotherhood of Magicians, also known as I.B.M., of which the Youngstown Club is an affiliate. The club is known as I.B.M. Ring Two and now as the Filips-Tutter-Doeright Ring in honor of Filips, charter member Harry Tutter, and Gus Doeright, a founding father and first president of Ring Two.
That year, at just 15 years old, Filips did his first legitimate show for the Eastern Star, a Free Masonry fraternal organization for both men and women.
"After it was over, I was so nervous, I went backstage and cried," he said. "But I made $25, which was a lot of money. I bought a lot of magic with it. Any money I earned was reinvested in magic."
"Then my mom called the I.B.M. and talked to one of the founders," he said. "She sent him $5, and he sent her about $30 worth of magic. He was just a very generous man who encouraged younger people."
"But when World War II occurred, most of the club members went to the service," Filips said, "and the club almost closed up. But as I was going in (to the Marines) and a friend was coming out, we talked about resurrecting the club."
According to the club's history, written by Tutter, at the end of the war many returning servicemen became interested in magic because they had seen magicians at camps or base shows. Club membership began to grow.
Meanwhile Filips, a 1946 graduate of Woodrow Wilson High School, began to study business at Youngstown College (now YSU) after he left the service, and it was there he met his wife of almost 60 years, Rosemarie.
"She was my first date," he said. "She was from the East Side of Youngstown, and we met at Youngstown College. We'll be married 60 years in October. Rosemarie is a graduate of the Dana School of Music. My wife has never assisted me, but our girls (Lori and Janet) have."
He continued doing magic as the club became "well-known all over the country," but then the Korean War broke out, and he returned to the service in 1952. Two years later he graduated with a business administration degree and with a major in accounting.
"I went to work for Harry Tutter who was a C.P.A. and a magician," he said. "But then I was hired at Republic Steel as a credit manager. I continued to work for Harry at night, but if I got a show, he would tell me to go ahead and do it. He did mind reading, and we did some shows together."
"I had a good reputation for performing," said Filips, who became known as a very good emcee. "I did a little monologue, a bit of stand-up comedy. I had a smaller version of the bigger stage magicians' acts of sawing a woman in half. I had a guillotine. I always closed with that."
"I would always get somebody out of the audience," he added, "and would tell them, 'Don't worry, this works nine out of 10 times. Just don't ask if there are nine people who have already survived it."
Filips said he received some of his other stage equipment from John Elickson, a "master of stage magic" and still has some of his effects, as he calls them.
"We don't like to call them 'tricks,'" he said. "In the old days you couldn't buy magic. John would make you effects or illusions. Either that or you made them yourself."
He described the club's meetings as a "very brief business meeting."
"Then we discuss ways to raise money," he added, "and then members who want to do tricks go ahead and do them. We have 35 members now."
Filips speaks with reverence about some of the men who were members of the Youngstown Club and went on to make it big."We had 40 members (in the '70's), all capable of doing magic acts," he said. "They were skilled magicians who could go professional at any time."
"The greatest artist at the card table was Del Ray, a close-up magician," he said. "He was raised in an orphanage in Warren and then moved to Hubbard. When we would go to a convention, everybody would crowd around him. He went from being destitute to becoming a millionaire. He got started through our club."
Filips himself was recognized at the Columbus Magi Fest in 2006 when he received the Spirit of the Magi award for performing 69 straight years at that convention.
"I never had any thoughts about becoming a pro, though," he said thoughtfully. "If I'd had any thoughts, it would have been as a comedian."
"I always wanted to do close-up magic because it's too hard to travel," said Filips, who has lived in Struthers now for 56 years. "I did my last show in Enon Valley, Pa. at a church about seven years ago."
Nevertheless, he continues to attend the meetings that take place at 8 p.m. on the second Friday of each month at Christ Church in Youngstown.
"Why do I still do it?" he said after demonstrating a few of the "effects" he still has. "I'm not doing it as violently or aggressively as I used to. It's a part of me, a part of my life. It will always be a hobby for me."
And as far as his effects that he still has?
"I collect oddities, but I've given much of them away already," he said.
"But if I go to a meeting and see a young fellow who would like it, I'll give it to him."