Blacks celebrate 50th anniversary at country club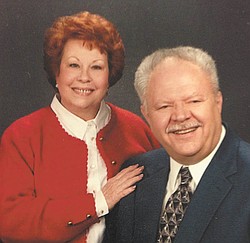 Photo
Mr. and Mrs. Daniel Black
WARREN
Daniel and Karen Lee Black of Warren celebrated their 50th wedding anniversary Feb. 23 at Avalon Golf and Country Club in Hermitage, Pa.
They were surprised with a limo ride from their home to the Avalon, where the Rev. Thomas Schneidmiller of East Liverpool officiated as they renewed their vows.
Mr. and Mrs. Black were married Feb. 23, 1963, at the Presbyterian Church in Wellsville.
They have two daughters, Debbie (Ken) Bollenbacher of Warren, and Diana (Mick) Nestor of Sharpsville, Pa. Two granddaughters, Danielle Chandler of Warren, and Dana Lantier of Cortland; a grandson, Graham Bollenbacher of Cortland; and a great-grandson, Oakley James Culver of Cortland, complete the family.
Mr. Black has worked for KraftMaid Cabinetry in Middlefield for 27 years. Mrs. Black is a homemaker.