Corinne Saffell, Daniel Simon to wed in Italy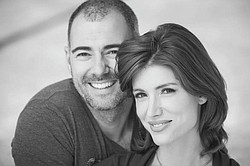 Photo
Daniel Simon and Corinne Saffell
GIRARD
Ron and Michele Saffell of Girard are announcing the engagement of their daughter, Corinne Saffell, and Daniel Simon, both of Santa Monica, Calif.
The parents of the future groom are Brunhilde and Dietmar Simon of Stralsund, Germany.
The couple will wed in an afternoon ceremony this spring, and a reception will follow. Both will be at the Follonico Bed and Breakfast in Montepulciano, Siena, Italy. Invitations will be issued.
The bride-elect attended the School of Visual Arts in New York City and graduated from Clayton College with a degree in natural health. She is a jewelry designer, actress and model for Reverie by Corinne in Santa Monica.
Her fianc graduated with a degree in transportation design from Pforzheim University of Applied Sciences in Pforzheim, Germany. He is a self-employed concept designer, author and producer in Santa Monica.