Allison Ginnetti, Anthony Rosati set June wedding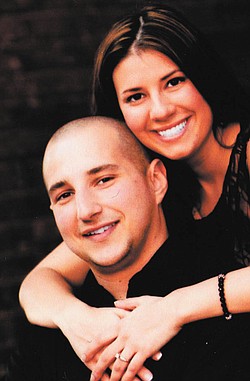 Photo
Anthony Rosati and Allison Ginnetti
STRUTHERS
Arthur and Arlene Ginnetti of Struthers are announcing the engagement of their daughter, Allison Ginnetti of Struthers, to Anthony Rosati of Boardman.
The future groom's parents are Pamela and Robert DeVicchio Jr. of Boardman and Steve and Lisa Rosati of Canfield.
The couple will exchange vows at 1:30 p.m. June 15 during an open wedding ceremony at St. Charles Borromeo Church in Boardman. Invitations will be issued for a reception at the Palermo Banquet Center in Campbell.
Miss Ginnetti attended Westminster College and earned a bachelor's degree in liberal arts and social sciences from Youngstown State University. She is a chiropractor assistant at Ohio Sports and Spine Institute in Boardman.
The prospective groom attended YSU and graduated from the Youngstown Fire School. He is a firefighter with Youngstown Fire Department.