Youth wrestlers place at Ohioway state meet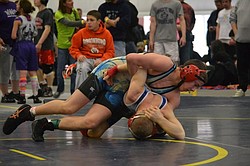 Photo
David Crawford (top) uses an arm bar to pry his opponent to his back.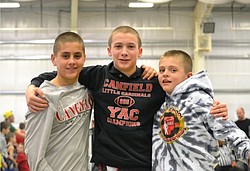 Photo
Santino Marucci (left), Nick Crawford and Ethan Fletcher enjoy a break at the Ohioway State Meet.
Six Canfield wrestlers traveled to Tiffin University last week to compete in the Ohioway State Tournament, with four placing.
Ethan Fletcher (Division III, 71 pounds) and David Crawford (Division V, 118) placed second. Nick Crawford (Div. IV, 112) placed third and Santino Marucci (Div. III, 100) placed fifth. All four had qualified for the state meet by placing in the top three at the Northeast District Qualifier.
Fletcher started the day off with three wins — 17-1, pin and 12-2 — to reach the title match. In the championship, he got caught in a leg roll and was pinned.
David Crawford also started his day with three wins — 9-1, 8-3 and 3-1 — before falling 8-0 in the finals match.
Nick Crawford lost his first match of the day in overtime and had to win four straight to place third. Marucci won his first two to get into the semifinals where he lost to the eventual champion from Brecksville. He won his fifth-place match by forfeit.
Other wrestlers who qualified, but did not place, were Michael O'Horo, Tanner English and Taarek Maalouf.
Ohioway is the Ohio Wrestling Association for Youth. They are part of the national Nu-Way organization. All wrestlers who placed in the top four are qualified to go to the Nu-Way National tournament in Battle Creek, Mich., on April 13.
In other wrestling action, Carter Myers placed first at the Green Open in Akron.