Niles Clergy Association sponsors Good Friday journey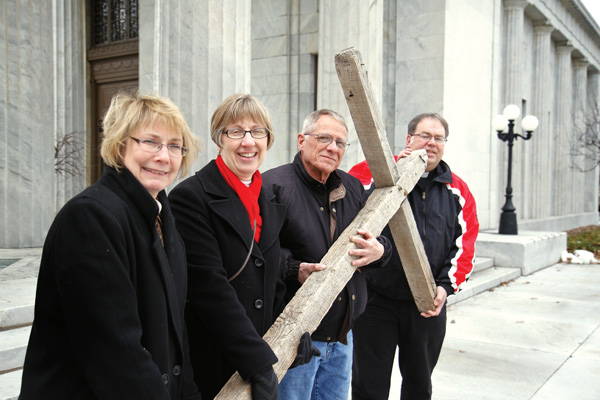 ---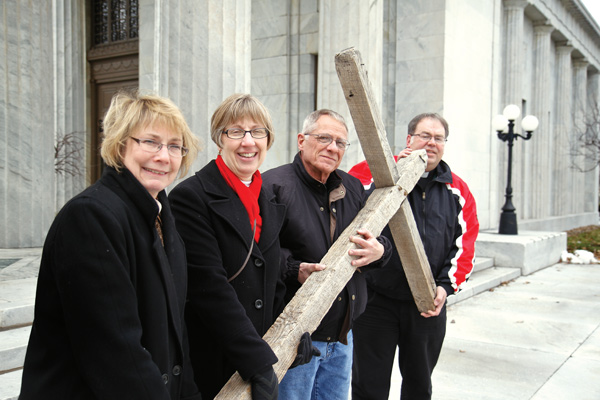 Photo
Members of Niles Clergy Association, from left, the Revs. Cynthia Carlisle, Cynthia Klingemier, David Conrad and Thomas Kraszewski, will carry a wooden cross for today's observance of Good Friday.
By LINDA M. LINONIS
Niles
For today's Good Friday observance, take "A Journey to the Cross" with members of Niles Clergy Asssociation.
The walk will get under way at noon at the McKinley Memorial, 40 N. Main St.
Depending on the weather, the group will remain at the memorial or walk to various churches. They will carry an 11-foot, about 30-pound wooden cross as a testament to Christ's ordeal.
The journey will open with prayer and then follow a Stations of the Cross format with hymns such as "Just a Closer Walk with Thee," "The Old Rugged Cross," "Were You There?" "Amazing Grace" and "How Great Thou Art."
The Rev. Thomas Kraszewski, pastor of the collaborating parish of St. Stephen Church in Niles and St. Mary Church in Mineral Ridge, said the journey began in 2008. It was born out of a similar event that he had seen in North Canton, where he previously was assigned. Father Kraszewski thought a similar presentation could work in the Niles community.
"It's a witness to the events that happened," he said. "The experience can help people understand what 'the way of the cross' means."
The Rev. Cynthia Carlisle, pastor of First Presbyterian Church, said this event affords people the opportunity to be involved in a new experience and use their senses.
"As a community event, it's a way to draw in people who aren't part of a faith," said the Rev. Cynthia Klingemier, pastor of First Christian Church.
"I see it as powerful outreach in the community," said the Rev. David Conrad of Trinity Lutheran Church, which is part of Hope Lutheran Parish and also includes Messiah Lutheran Church in Newton Falls and St. Mark's Lutheran Church in Warren.
The clergy association is rooted in service to the community. Inspired by the ecumenical movement, it was formed in the late 1960s, Father Kraszewski said. The association organized Niles Churches for Housing in the 1970s that resulted in residences for seniors — Central Park Apartments and Edison Place.
The association continues community service by offering a free meal from 4:45 to 6 p.m. Thursdays at one of the member churches. It also sponsors a choir festival and hosts an interfaith banquet.
Pastor Klingemier said she appreciated the clergy association because it brings her into contact with "colleagues who are pastoral leaders." She said it was an opportunity to share what's going on in congregations.
For Pastor Carlisle, the association provides an oasis of unity in a media climate that claims "divisiveness." "It's just simply nice to get together and share our work as pastors here," she said.
"I believe people of different faiths working together can make a difference," Pastor Carlisle added.
Father Kraszewski said though there are differences among traditions and styles of worship, the churches share "a commitment to Christ and the Gospels."
He said the association affords members the opportunity to "learn about different traditions."
"We're able to do more when we work together," he added.
Other member churches are First Christian of Lordstown; First Presbyterian Church of Mineral Ridge; First United Methodist, New Hope United Methodist, Our Lady of Mount Carmel, St. Luke Episcopal, Southside Presbyterian, Niles Christian Assembly, all in Niles; and First United Church of Christ in Warren.