Anas, Romeo legacies growing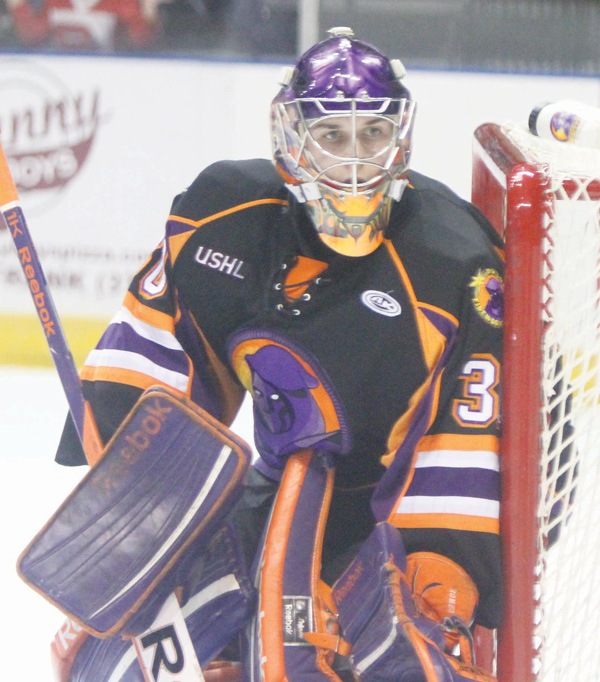 ---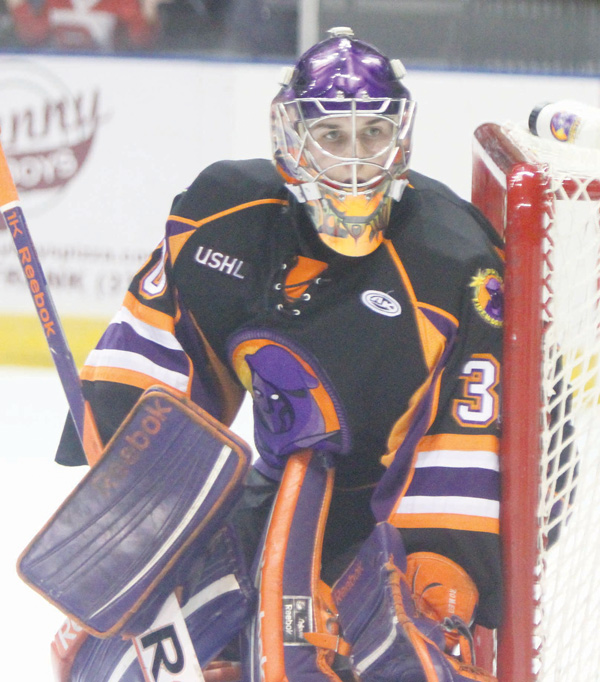 Photo
With 28 wins this season, Youngstown Phantoms goaltender Sean Romeo has tied last year's netminder Matt O'Connor.
SEE ALSO: Ex-Phantoms compete for shot at NCAA's Frozen Four tourney
By Tom Williams
BOARDMAN
So many records were set in last week's 5-3 win over the Indiana Ice that the Youngstown Phantoms' could have promoted the game as Vinyl Night.
The Phantoms (33-23-0, 56 points) have earned the most wins in the four-year franchise's history.
With 28 wins this season, goaltender Sean Romeo has tied last year's netminder Matt O'Connor.
Austin Cangelosi's empty-net shorthanded goal gives him 11 during his two seasons with the Phantoms, a USHL record.
In Sunday's 4-2 loss to Team USA, Sam Anas scored both goals and has 30, one behind JT Stenglein's record set last season.
Most importantly, the fourth-place Phantoms have clinched their second straight playoff appearance and have a shot at finishing as high as second. Not bad for a team that lost 11 out of 12 games in the fall.
"It shows the character that this team has," Romeo said. "We went through a rough patch, but no one ever panicked or got away from the system. We just stuck with it, knew it would turn for us, knew it would work.
"To be here is awesome, but we're not satisfied. We're still trying to move up in the standings."
The second-place Green Bay Gamblers (34-19-4, 72 points) have played one more game than Youngstown. The third-place Muskegon Lumberjacks (30-19-10, 70 points) have played three more games.
"We've really turned it around," Anas said. "A lot of it is a credit to our team chemistry. On and off the ice, we just seem to be clicking."
The Phantoms play the Cedar Rapids RoughRiders (21-29-7, 49 points) tonight and Saturday at the Covelli Centre. Both games are set for 7:15 p.m.
Romeo's steady play in goal has been crucial to the turnaround. Phantoms head coach Anthony Noreen credits goalie coach Shane Clifford for triggering a key change.
When the season began in September, neither Romeo nor Patrick Spano was considered the No. 1 goalie. Both earned two wins in the team's 4-0 start.
But when the skid hit, Clifford convinced Noreen to give Romeo a stretch of games to see if he could assert himself.
"[Clifford] said, 'It's hard to get into a rhythm when you only get one game a weekend — why don't you give Sean the next five games and see what he does with it?' " Noreen said.
The Phantoms coaches liked what they saw.
"There was no doubt that Sean was ready to be the guy," Noreen said. "I think we saw him grow more in that two-and-a-half weeks then we did in the previous year-and-a-half."
Four months later, Romeo is tied with O'Connor, one of two freshmen goalies for Boston University this season.
"Working with OC, the biggest thing that I took from him was just not being affected by things outside of the team," Romeo said of O'Connor. "He never once talked about the record or going to school or any external distractions — he never brought them up.
"He was always focused on being here, taking care of business here," Romeo said. "It helped him play well by not looking at that stuff, it helped him achieve."
Anas admitted he'd like to score two more goals.
"I haven't had any individual goals until I've come into sight of this one," Anas said. "Hopefully it happens, but it's not a big deal if it doesn't happen."
Romeo says the most important thing for him over the final three weekends of the season is to not overdo anything.
"Listening to my body, getting the rest I need," Romeo said. "We want to move up but the biggest thing is that we are in the playoffs."