Pavlansky commits to U.S. Naval Academy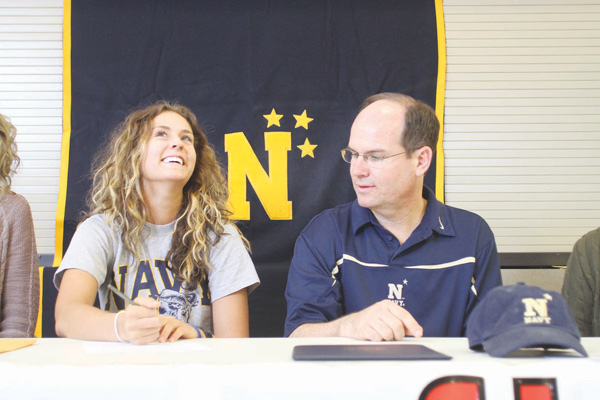 Photo
Canfield's Allison Pavlansky signs a letter of intent to attend the U.S. Naval Academy as her father and the team's coach, Pat Pavlansky, watches during a ceremony Thursday at Canfield High School. Pavlansky will play tennis for the Midshipmen. A four-time most valuable player for the Cardinals, she is the reigning two-time All-American Conference player of the year and helped the Cardinals to four consecutive American Division crowns.
By Greg Gulas
CANFIELD
In the end, it was an offer that she just couldn't refuse.
Canfield High's Allison Pavlansky made it official Thursday when she inked her letter-of-intent in the school's athletic foyer finalizing her intention to attend the United States Naval Academy. Approximately 300 people watched.
Pavlansky fully understands that upon graduation she will have barely a month to herself before her June 27 report date and military commitment to Annapolis.
"This was a very tough decision for me and my parents because there were so many options that had to be weighed," she said. "There were five schools that I was very interested in, but it soon became apparent that the U.S. Naval Academy was too good an opportunity for me to pass up."
Pavlansky, who earned eight varsity letters (four each in tennis and basketball) for the Cardinals, was flanked by parents Pat and Karen, grandmother Bernie and tennis coach Rob Stevens.
She was introduced by school athletic director Greg Cooper, himself a 1977 U.S. Naval Academy graduate.
"The school is the undergraduate college of Naval service and strives to develop young men and women morally, mentally and physically so that they may be commissioned as officers in the Navy," Cooper said. "It is difficult to gain admission and demanding while you are there, but provides outstanding opportunities. Ally is certainly up to the challenge."
Pavlansky, who will play tennis for the Midshipmen, was a four-time most valuable player for Stevens' Cardinals and is the reigning two-time All-American Conference player of the year. She helped the Cardinals to four consecutive American Division crowns.
A three-time Vindicator player of the year, she helped her team to a 73-7 overall mark, posted an unblemished 32-0 conference mark while qualifying for the Division I state tournament on three occasions — twice in doubles play, where she earned second-team all-state honors and this past year in singles competition.
"Ally is just an amazing person; a hard worker and great competitor who hated to lose," Stevens noted. "A great leader, her play set an example for the rest of the girls on the team as they aspired to be like her."
She played basketball for her father, helping the team to a combined 71-24 overall mark which included two AAC championships and two Division II district titles.
Last year, she was a second-team, all-conference selection while helping the Cardinals to a 26-2 overall mark and regional runner-up finish.
"As a father you are proud of this wonderful opportunity for your daughter, yet apprehensive at the same time as I would be with any school she might have selected," Pat said. "Her opportunities are now limitless."
Mother Karen, a former cross country runner and basketball player for Youngstown State who has served as a local basketball official the past 15 years, called the process quite extensive.
"There was a physical exam, a medical exam and a fitness test among the many other areas that were considered," Karen said. "Words cannot express how happy I am for her. She is now ready to go."
Ally Pavlansky was nominated by U.S. Rep. Tim Ryan (D-Niles) and it was noted that less than seven percent of male nominees are appointed, while less than four percent of female nominees ever receive an appointment.
The other schools she considered were Bucknell, George Mason, Akron and Mary Washington.