Austintown's Stellers receives STEM award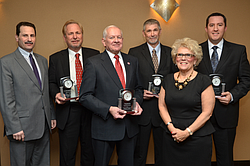 Photo
Neighbors | Submitted.Pictured, from left, (front) Dr. Tom Stellers, Austintown Board of Education and Dr. Cynthia Anderson, president, Youngstown State University; (back) Dr. Martin Abraham, dean, STEM College, YSU; John Scott, president, Applied Systems and Technology Transfer; Theodore Burke, director of research and development, Ajax TOCCO Magnethermic and Daniel Martin, manager of Blend Test Services, Lubrizol Corporation at the STEM College Awards on Feb. 21 at Youngstown State University.
Tom Stellers, member of the Austintown Board of Education received the Outstanding Education Partner award at the fifth annual STEM (Science Technology, Engineering, and Mathematics) College Awards Dinner in the YSU Chestnut Room, Kilcawley Center, on Feb. 21.
The award recognized the strong partnership between Youngstown State University, Stellers and Austintown Schools. As a Fitch student, Stellers won awards in the Tri-County Science Fair. Following graduation from Bowling Green State University he taught biology at Fitch for 12 years. He then had a distinguished career at the Mahoning County Office of Education (now known as the Mahoning County Educational Service Center). His responsibilities included middle school supervisor, K-12 science supervisor, director of administrative services, director of the Mahoning County School Employee Health Insurance Consortium and founding executive director of the Area Cooperative Computerized Educational Service System (ACCESS) which provides data processing for budgetary and student services for 25 school districts.
He was five-year chair of the state-wide committee that established INFOhio - the Information Network for Ohio - which brought about automation of Ohio's school libraries. The Austintown Fitch High School library was the first to be catalogued and to provide INFOhio services.
Establishing partnerships to provide curriculum, mentorships, apprenticeships and funding are focus points for his efforts in STEM education.
Austintown Middle School offers STEM programming in seventh grade through use of Project Lead the Way curriculum which is the nation's most-used STEM courseware. Enhanced technology classes are also offered at AMS. INVENTORcloud has been provided at Austintown Fitch High School.
This project creates a virtual learning and collaborative environment by integrating hardware capabilities, software applications, and a dynamic curriculum. Additional STEM opportunities are planned for Austintown Schools in the coming school years.
Stellers has been an Austintown resident since childhood and he is married to the former Carol Crichton, a YSU graduate and a retired Austintown Fitch High School Spanish teacher.
Daniel Martin was presented the Outstanding Young Alumnus award. He is also a graduate of Austintown Fitch and has YSU degrees in industrial and systems engineering with a focus on engineering management. Martin manages operations of Lubrizol Corporation's largest component blending, analytical, physical, and performance bench testing facility.