P. Ross Berry students celebrate reading
---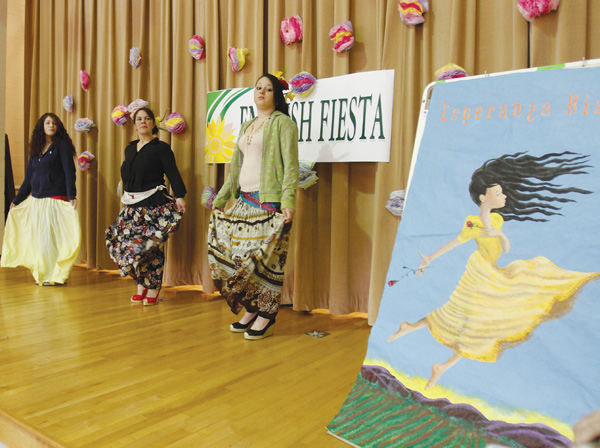 Photo
Marilyn DeJesus, center, a teacher of English as a second language at P. Ross Berry Middle School, leads students Keysa Villafane, left, and Abigail Jimenez in a Mexican dance as part of the school's English Fiesta on Thursday at the school.
By Denise Dick
Youngstown
A novel provided the launching pad for a meeting of cultures and an incentive for students to work diligently for a reward.
About 80 P. Ross Berry Middle School students participated Thursday in an English Fiesta complete with Mexican music and dancing, chips and salsa and pinatas.
To attend, eighth-graders had to maintain at least a C in English and have no suspensions.
"It's to boost up academic achievement," said Irene Ferraro, who leads the school's English department.
Students read "Esperanza Rising" by Pam Mu ±oz Ryan, a novel about a 13-year-old girl living in the 1930s with her family in Mexico. When the girl's father is killed, she and her mother flee to California.
"She has to grow up fast," Ferraro said of the book's main character. "When her mother gets sick, she has to go to work to earn money for the medical bills."
Later in the story, Esperanza notices that her grandmother crochets in a zigzag pattern. The older woman explains that the pattern represents mountains and valleys or the ups and downs that everyone encounters in their lives.
"That's the message of the story," Ferraro said.
The English Fiesta combined the story the students read in English classes with Mexican culture.
Principal Lisa Gonzalez-Miller, teachers Marilyn DeJesus, Kim Pontuti, Sonya Justice, Lisa Perry, Patrella Lightfoot, Virginia Stone-Meyer, Heather Wilcox, Jasbir Bhullar and Mona Gilliland; tutor Gerald Wansack; and Bethany Solich, school librarian; helped organize the event.
Jaleel Glenn, 13, said he enjoyed the book although sports stories are his favorite reading. To attend Thursday's fiesta, he had to "get good grades and not get into trouble," he said.
The fiesta was a way to celebrate the book and have a good time, Jaleel said.
Khristie Dixon, 14, said it wasn't difficult for her to meet the criteria to attend. She enjoyed the book. "I thought it was nice, but it was sad," she said, referring to Esperanza's struggles.