Withdrawals of cash in Cyprus capped at 300 euros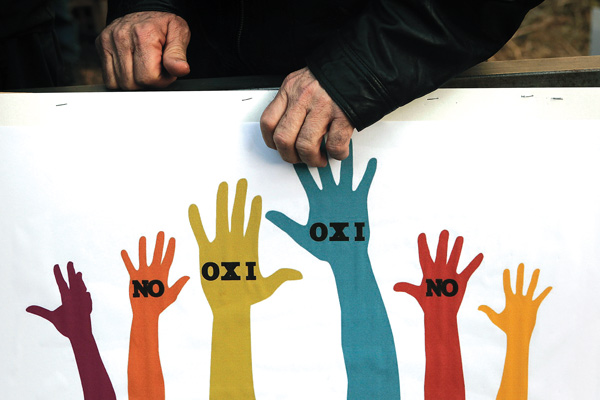 ---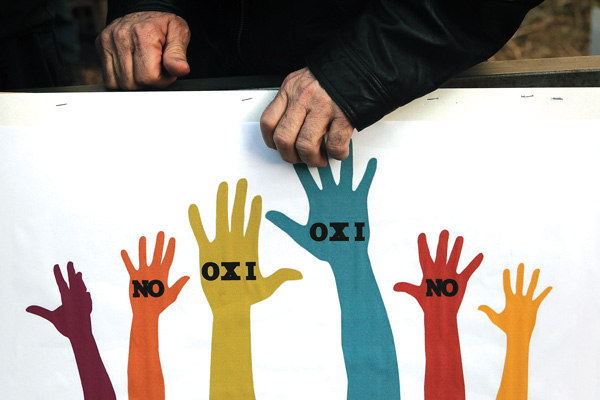 Photo
A protester holds a placard that reads "no" in Greek and English outside the European Union house during an anti-bailout demonstration in Nicosia, Cyprus, on Wednesday.
Associated Press
NICOSIA, Cyprus
Banks in Cyprus are to open for the first time in more than a week today, operating for six hours from noon, but restrictions will be in place on financial transactions to prevent people from draining their accounts.
Among the capital controls, cash withdrawals will be limited to 300 euros ($383) per person each day. No checks will be cashed, although people will be able to deposit them in their accounts, according to a ministerial decree.
The controls will be in place for four days.
Cyprus' banks were closed March 16 as politicians scrambled to come up with a plan to raise 5.8 billion euros ($7.5 billion) so the country would qualify for 10 billion euros ($12.9 billion) in much-need bailout loans for its collapsed banking sector. The deal finally was reached in Brussels early Monday and imposes severe losses on deposits of more than 100,000 euros in the country's two largest banks, Laiki and Bank of Cyprus.
Since Monday's deal, Cypriot authorities have been rushing to introduce measures to prevent a rush of euros out of the country's banks when they do reopen.
Other capital controls include a cap of 5,000 euros on transactions with other countries, provided the customer presents supporting documents. Payments above that amount will need special approval.
Travelers leaving the country won't be able to take with them anything over 1,000 euros in cash — as well as the equivalent sum in foreign currency.
Tuition fees and living expenses of up to 5,000 euros for three months will be permitted for overseas students, but documentation must be provided proving the student's relationship to the dispatcher.
Also, investors will not be able to terminate fixed-term deposit accounts before they mature unless the funds are to be used for the repayment of a loan in the same bank, the decree says.
In the capital, Nicosia, armed police officers guarded several trucks carrying containers arriving at the country's Central Bank, while a helicopter hovered overhead.
The contents of the trucks could not be independently confirmed, although state-run television said they were carrying cash flown in from Frankfurt for the bank reopening.