East's Scott, Struthers' Hefferon honored as All-Star MVPs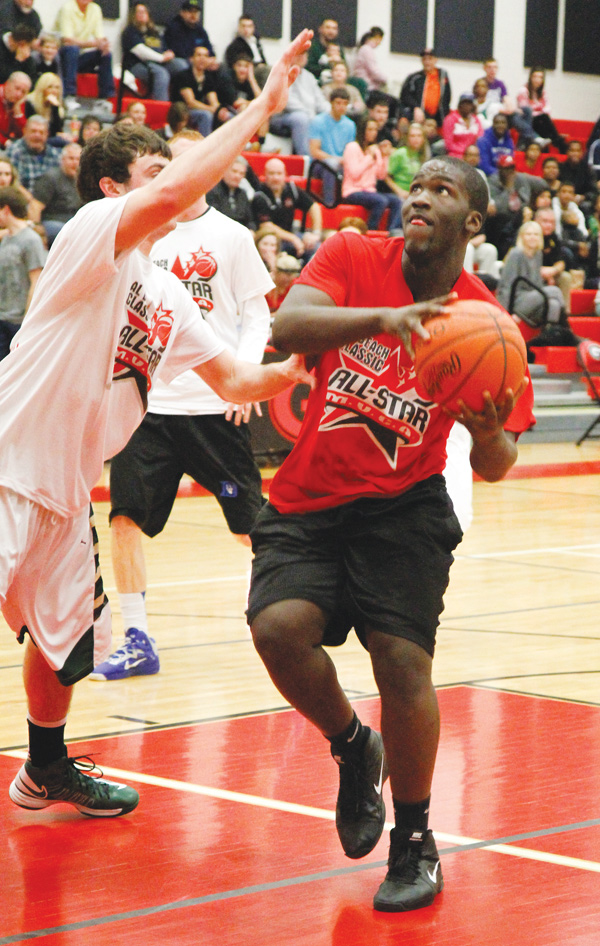 ---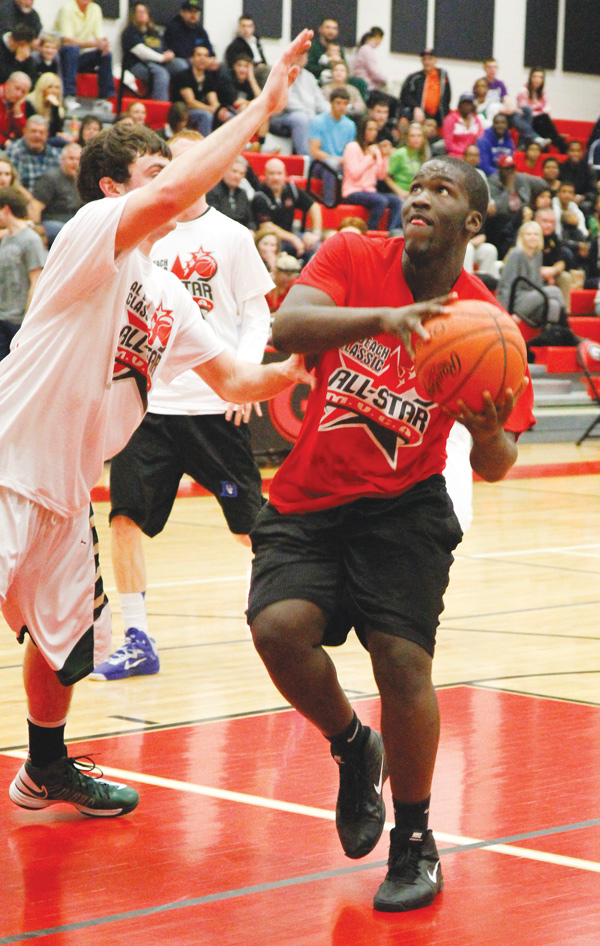 Photo
East's Deontay Scott shoots the ball for the Red Team against the White Team's defender Ryan Strollo of Ursuline during the boys' game at the Al Beach classic. Red downed White, 75-61, and Scott earned MVP honors.
East's Scott, Struthers' Hefferon honored as All-Star MVPs
By Tom Williams
GIRARD
East senior Deontay Scott hasn't decided whether he will attend Ohio State University on an academic scholarship or play basketball for the University of Mount Union.
It's possible Wednesday's Al Beach Classic all-star game at Girard High was his last organized basketball game. If it was, Scott went out dazzling.
The Panther scored 25 points to lead his Red squad to a 75-61 victory over the White team. He even made three 3-pointers.
Brookfield coach Bill Kovach, who coached the Red squad along with East's Dennis Simmons, said it's a lot more fun when Scott is on the same side.
"He bruised us up pretty good," said Kovach, referring to East's 75-62 victory over Brookfield on Feb. 4. "He's a competitor, a great player, very smart."
Scott scored 13 points in the first three quarters to position himself for MVP, then watched Cardinal Mooney's Doug Caputo match him.
Scott responded by going on a tear, scoring the first 10 points of the fourth quarter as the Red squad pulled away.
"I was just trying to have fun," said Scott, who called the 3-pointers "confidence shots."
"My confidence was up," he said.
Speaking of confidence, Struthers' Ashley Hefferon is on a roll. One night after being named one of the MVPs at the Frank Bubba Memorial Classic at Howland High, Hefferon led her Red team to a 59-50 victory in the girls game.
"I honestly didn't feel that I was going to win it [Tuesday]," said Hefferon, who scored 14 points in the Beach game. "I was kind of shocked.
"I was kind of shocked today, too — I felt there were way more girls [doing well]."
Late in the game, Crestview's Ashley Harrison was tied with Hefferon with 12 points. Harrison then fed Hefferon a pass for an easy basket underneath to seal the victory.
"When you look at each side, here were a lot of girls who could have been MVP," said Crestview's Rick Gates, coach of the winning team. "It was an enjoyable night."
Canfield's Sabrina Mangapora scored 17 points to lead the White team, which trailed 33-22 at halftime before making a late surge.
"Both teams wanted to win," said Gates, noting how Fitch coach Stacie Cepin teamed Mangapora and Bristol's Allyson Jones in the final quarter. "They put in a couple of their big players, but we just kept with our rotation.
"It worked out at the end, with our Ashley setting up the other Ashley."
In the slam dunk competition, LaBrae junior Peyton Aldridge and Brookfield's Jeremy Quinlan finished one-two for the second straight night. Salem's Ryan Bush was the other finalist.
Also competing were Mineral Ridge's Corey Phillips, East's Taylor Johnson and Youngstown Christian's Daylen Williams.
In the 3-point competition, McDonald's Stephen Politano and Austintown Fitch's Megan Sefcik were the winners.
Politano made 14 and Canfield's Andrew Midgley was runner-up with 12.
Sefcik and United's Emily Zehentbauer tied with 12, then Sefcik won the extra round, 13-11.
Sefcik said she starts feeling discomfort in her legs once she gets to the fourth rack of balls.
"Doing it once was tiring enough," said Sefcik, who admitted she's not sure how she ended up with more in her second attempt. "Yes, it was [a surprise]. I knew it was going to be hard, but I toughed it out."
In the boys game, Scott and Simmons shared one final laugh. After sinking his final 3-pointer, Scott gave his coach a "Say what?" look.
"He said I should have shot the ball like that all season," said Scott who admitted he missed all seven 3-point attempts during his senior year.
Caputo finished with 13 points while Brookfield's Collin Harkulich scored nine.
For the White, Ursuline's Kevin Jackson led with 11 points. Canfield's Marco DeLorenzo was next with nine and Warren Harding's Mik'quan Dorsey and LaBrae's John Richards each scored seven.
The Mahoning Valley Coaches Association sponsored the event.
Receiving Coaches of the Year honors for boys teams were Canfield's Todd Muckleroy, Poland's Ken Grisdale and Springfield's Eric Fender.
For girls teams, the honorees were Canfield's Pat Pavlansky, West Branch's Walt DeShields, Struthers' John Grandy, Lowellville's Tony Matisi and Newton Falls' Mark Baker.