Penguins make it 13 straight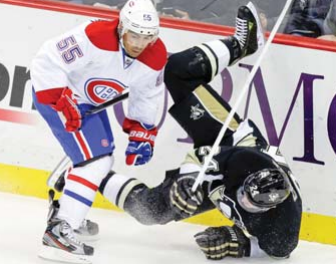 ---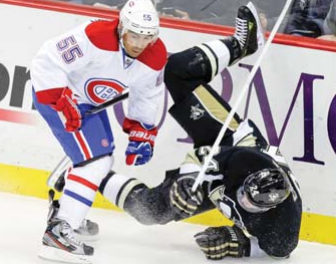 Photo
Montreal Canadiens defenseman Francis Bouillon (55) collides with Pittsburgh Penguins left wing Matt Cooke (24) in the fi rst period of an NHL hockey game in Pittsburgh on Tuesday.
Associated Press
PITTSBURGH
Montreal Canadiens goaltender Carey Price saw the NHL's leading scorer bearing down on him and figured he had maybe an inch or two over his right shoulder exposed.
Thing is, an inch or two is all Sidney Crosby needs these days.
Crosby beat Price with a laser to the top corner of the net late in the second period, Marc-Andre Fleury and Tomas Vokoun teamed up to stop 37 shots, and the Penguins extended their winning streak to 13 games with a 1-0 victory on Tuesday night.
"He's the best player in the world, so we got beat tonight by the best player in the world, by the perfect shot," Montreal coach Michel Therrien said.
One Crosby delivered after a rare defensive breakdown by the Canadiens. Chris Kunitz found Crosby with a pretty cross-ice pass and Crosby did the rest. His 15th goal of the season turned out to be just enough to keep Pittsburgh's march through March going.
"To win that many, your goaltenders have to steal a game or two over that time period," Crosby said. "Sometimes we've had tough periods and they've bailed us out."
Against the surprising Canadiens, the Penguins needed both. Fleury stopped all 22 shots he faced, but did not play in the third period following a collision in front of the Penguins' net. Vokoun filled in and made 15 saves to give Pittsburgh just the fourth combined shutout in franchise history.
Fleury appeared woozy after he was slammed into by teammate Tyler Kennedy and Montreal's Brian Gionta with less than a minute to go in the second. He laid on the ice for a moment to collect himself and managed to finish the final 49 seconds, but did not come out of the dressing room for the third.
Pittsburgh coach Dan Bylsma said Fleury — who leads the NHL with 18 victories — would "continue to be evaluated" but offered no specifics. The Penguins are off until Thursday when they host Winnipeg.
Given an entire intermission to warm up, Vokoun played solidly as Pittsburgh continued to tighten things up on the defensive end. The Penguins have allowed nine goals in their last nine games, the lowest total in the league over that span.
"I think guys are just really buying in to what our ultimate goal is here," defenseman Brooks Orpik said. "We're winning games 2-1, 1-0 and guys are ecstatic."
Price finished with 24 saves for the Canadiens, but couldn't stop Montreal from losing consecutive games for the first time this season.
"We've got to take the positive out of it," Price said. "We keep playing the way we are, we're not going to lose that many games like that."