Phase I of the $100 million, seven-story tower will open in April 2014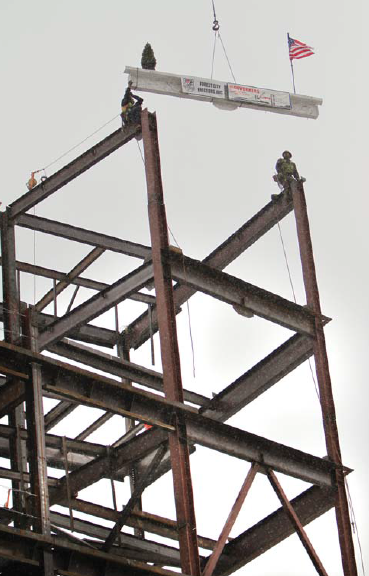 ---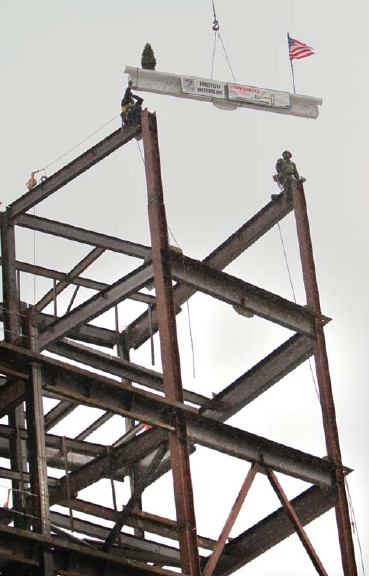 Photo
A "topping off " ceremony placing the fi nal steel beam on a new seven-story patient tower took place Monday at the St. Elizabeth Boardman Health Center. Above, a crane lowers the beam, balanced with a potted bush on one side and an American fl ag on the other, as workers guide it into place.
BOARDMAN
Placement of the final steel beam atop St. Elizabeth Boardman Health Center's seven-floor in-patient tower Monday — the "topping off" ceremony — is a significant benchmark in the $100 million project scheduled for completion in April 2014.
There is, however, still a lot of work to do, said Robert Shroder, president and chief executive of Humility of Mary Health Partners, St. Elizabeth's parent company.
The new patient tower, the second such facility at St. Elizabeth Boardman, is part of the reorganization of the St. Elizabeth health- care system to align services with where the patients are, Shroder said.
For example, the neonatal intensive care unit housed at St. Elizabeth Main Campus on Belmont Avenue, Youngstown, will be moved to the new patient wing in Boardman, he said, noting that two-thirds of the babies born at St. Elizabeth are in the southern service area.
It reflects the changing demographics of the area's population and is part of a 10-year strategic plan to remain viable, Shroder said.
The neonatal unit, operated by Akron Children's Hospital, will lead to the renovation and conversion of all patient rooms at St. Elizabeth Main Campus to private. Also, he said, St. Elizabeth Main Campus will house all the tertiary care, such as neurosurgery, cardiac surgery and rehabilitation, behavioral health and the Level I Trauma Center.
The new tower, immediately west of the hospital's main entrance, will be completed in phases with the fifth, sixth and seventh floors to open in 2015, 2016 and 2017, respectively, which will be a mix of medical-surgical and telemetry floors.
Shroder said the project will change the number of patient beds, including medical/surgical, obstetrics and neonatal nursery, at St. Elizabeth Boardman from 128 to 244; and from 350 to 250 at St. Elizabeth Main Campus.
"I'm excited about opening the new facility in Boardman and the opportunities that opens up for St. Elizabeth Main Campus. We hope to have all private rooms at the Mahoning County facilities and St. Joseph Health Center in Warren in three to five years," he said.
Shawn Lyden, executive vice president of Akron Children's, said moving the neonatal unit to St. Elizabeth Boardman will provide 24 private rooms, and also an upgrade of equipment. Akron Children's has offices already for sub- specialty physicians in the St. Elizabeth Boardman Medical Pavilion, he said.
The "topping off" ceremony, conducted Monday in the snow and freezing rain, drew applause from a group of hospital personnel and construction workers when the ceremonial beam, painted white and signed by many St. Elizabeth employees and executives, was raised by a huge crane and clunked into place.
One of the two construction workers placing the beam raised a hand to let viewers know it was safely attached.
The project, in addition to improving St. Elizabeth's ability to deliver health care, also was a boon to the local economy, said Betty Jo Licata, vice chairwoman of the HMHP board of directors.
She said virtually 100 percent of the labor is either based in the Mahoning Valley or is utilizing local union labor; and that 100 percent of all trades are using local union labor to supplement key foremen on the job; and about 75 percent of the materials were purchased from area suppliers.