Board's evaluation rates superintendent a five of possible nine
3 board members opt not to sign evaluation
By Denise Dick
VTR: Connie Hathorn - Superintendent of the Youngstown City Schools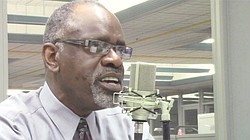 Video Set
YOUNGSTOWN
Despite improved test scores, the school board evaluated Superintendent Connie Hathorn's performance at a 5 out of a possible 9, down two points from last year.
Three of the seven board members did not sign the evaluation, however, believing the marks should be higher.
The board met in executive session with Hathorn on Monday, and he said the board's overall evaluation of him, as well as his ranking in every category, was a 5. Last year, the board rated him at an overall 7 out of 9.
A 5 equates to a "satisfactory" performance. A 7 equates to "commendable."
"I'm not taking it personally," Hathorn said Monday evening. "I'm just putting the kids first. We're going to keep moving forward. It's all about the kids."
He said he planned to respond to his evaluation in writing to the board.
Reached by telephone after the meeting, Richard Atkinson, school board president, wouldn't talk about the evaluation.
"I'm looking at some legal things," he said.
Hathorn's evaluation was completed and signed by the majority of board members, making it a public document, but Atkinson said he would release it when he establishes that it is public.
Three board members — Lock P. Beachum Sr., Rachel Hanni and Michael Murphy — didn't sign the evaluation. It was signed by Atkinson, Marcia Haire-Ellis, Brenda Kimble and Andrea Mahone.
They all said they disagreed with an evaluation that rates Hathorn's performance as worse than it was last year.
"I think he's doing a good job — definitely not worse than last year," Hanni said.
She pointed to improvements in school school's test scores — both Chaney Campus and Williamson Elementary School were rated effective on the most recent state report card.
"I think he's doing everything he can to move this district forward and to try to appeal to the students and the people who have left to come back," Hanni said.
Hathorn unveiled a plan earlier this month that will close three school buildings and repurpose several others in an attempt to expand student choice, reduce costs and improve academics. Both the state-appointed Youngstown Schools Academic Distress Commission and the school board approved the plan.
Beachum worries that an evaluation rating Hathorn's performance as worse this year than the previous year could send the wrong message to the community. It may give the impression that the board lacks confidence in the superintendent, Beachum worries.
For the plan to succeed, it's going to take support from the board, the academic commission, the superintendent, the superintendent's advisory committee and the community in general.
Beachum says he has confidence in Hathorn.
"I think he's making every effort to do a good job," he said.
Murphy agreed.
"I think he's doing a better job than he did last year," he said.
Each board member completes an individual evaluation form that the board president then compiles to arrive at an average in each category and overall.
The evaluation covers six categories: relationships with the board, community relationships, staff and personnel relationships, educational leadership, business and finance and personal qualities.