Postal workers deliver message: Don't stop 6-day service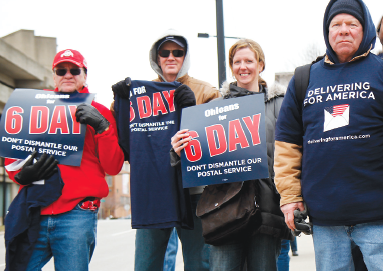 ---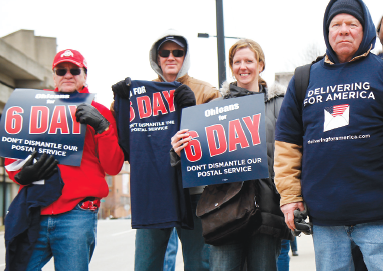 Photo
Local United States Postal Service employees demonstrate at the main post office in downtown Youngstown to have Congress overrule a U.S. Postal Service decision to end Saturday mail delivery.
By Bob Jackson
YOUNGSTOWN
Chanting slogans such as "USA for six-day," and "Don't let Donahoe disobey, deliver mail on Saturday," area postal workers tried Sunday afternoon to rally support for a congressional mandate to continue mail delivery six days a week.
They are part of a group called Delivering for America.
At issue is a decision by U.S. Postmaster General Patrick Donahoe to cut Saturday delivery of most mail beginning in early August. If Donahoe's plan goes into place, only parcels would be delivered Saturdays. It's part of a cost-cutting plan that Donahoe says is needed to keep the postal service operational.
"We want to create awareness and get the public more involved in this," said Henry Gomez, president of the National Association of Letter Carriers Local 385. He said about 100 such rallies took place at postal locations across the country Sunday.
The postal employees have urged Congress to intercede and block the Saturday mail-delivery cuts. Some members of Congress have said that Donahoe doesn't have authority to cut Saturday delivery without congressional approval, and Gomez said Congress recently issued a mandate that the six-day delivery system be maintained.
"Now he says he's not going to deliver mail on Saturday, but he'll deliver parcels," Gomez said, referring to Donahoe. "He thinks that's a loophole that will let him go ahead and stop Saturday letter delivery. We don't think that's fair to the American people."
Since September, all mail dropped into mailboxes in the Youngstown area has been taken to Cleveland to be canceled and then driven back to Youngstown for delivery, which postal employee Brian Gilchrist said has caused delays in delivery. He said curbing Saturday letter deliveries will cause backlogs for carriers that will create a greater lag in delivery times.
"They blame technology for the decrease in people using the mail," Gilchrist said of postal service officials. "But with all these delays, they're forcing people to use technology like paying bills online or sending emails. There is no leadership and no accountability at the top. We need a new business model."
Gilchrist said Congress should dump its 2006 mandate that the USPS pre-fund health care benefits for future retirees. He said that burden is largely responsible for the postal service's financial woes.
"Congress created this mess; they can step in and fix it," he said.
Dominic Corso, president of the American Postal Workers Union Local 443, said the post office is still a viable entity and "still an important part of the American way of life," but that it's slowly being taken apart by its leadership.
"They will continue to dismantle, they will continue to cut services, until Congress tells them to stop," he said.
David Simon, owner of Smart Environmental Engineering Consulting and Construction of Youngstown, was among those who spoke during Sunday's rally, saying the loss of Saturday mail delivery will negatively impact his business because it will cause delays in getting advertisements, invoices and billings to his customers.