LaBrae's run ends in state semifinals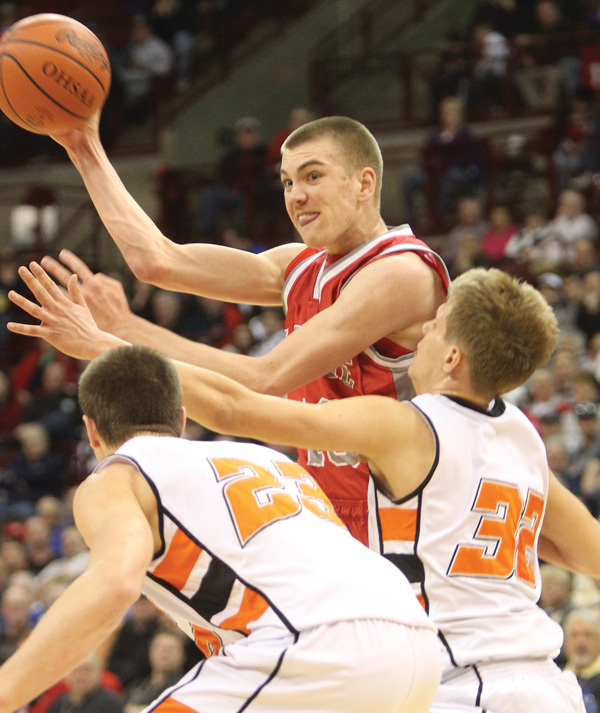 ---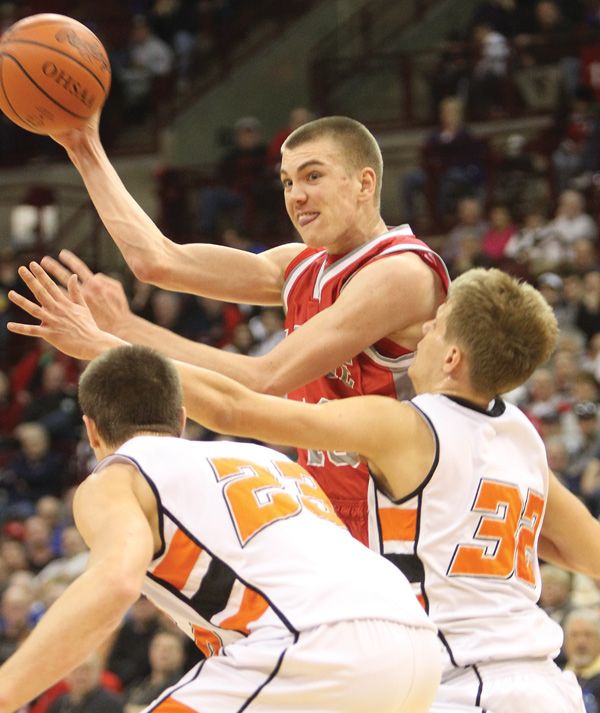 Photo
LaBrae's Peyton Aldridge (10) passes over Versaillies Damien Richard (23) and Chad Winner (32) during the boys Division III state semifinal basketball game Thursday at Ohio State University's Value City Arena in Columbus. Aldridge had 23 points and nine rebounds for the Vikings, whose season came to an end in a 64-52 loss to the Tigers.
By Tom Williams
COLUMBUS
After wiping out a double-digit deficit in the second quarter, the LaBrae High basketball team had momentum going into the lockerroom with a four-point lead in the biggest game in school history.
The Vikings' potent offense that had powered them to their first 24-win season had them poised for another milestone.
But the surge didn't last. Versailles immediately tied the game then limited LaBrae's first-team all-state forward Peyton Aldridge to just seven points in the second half.
Sophomore Kyle Ahrens and junior guard Damien Richard each scored 21 points as Versailles pulled away for a 64-52 victory Thursday at Ohio State University's Value City Arena.
"Tale of two halves," LaBrae coach Chad Kiser said after seeing his Vikings outscored 31-15 in the second half. "We were able in that second quarter to turn it around."
After falling behind 21-14, the Vikings (24-4) shocked the Tigers (23-5) with a 23-12 second quarter.
"We played at our kind of pace, switched up our defenses pretty well, forced them to shoot a little more contested in the second quarter," Kiser said.
Aldridge, a junior who finished with 23 points and nine rebounds, scored 13 points in the second quarter.
"We used Peyton with the ball in his hands to start rather than try to get it to him," Kiser said of a strategy change. "They were really doubling him in the first quarter and it was tough to throw it to him down low.
"He's so versatile that we were able to bring him out and let him handle the ball at the top, coming off some double screens," Kiser said. "He just killed them with that foul-line jumper coming off the screen."
Ahrens was impressed.
"He did really well, hitting that jump shot," Ahrens said.
But the Vikings' offensive spurt sputtered in the third quarter.
"They did a great job of keeping the ball out of Peyton's hands in the second half," Kiser said. "That hurt us.
"We knew coming out at halftime they were going to go 2-3 zone," said Kiser who advised his team to be patient and make defensive rebounds.
"Those are two things we didn't get done," Kiser said. "We didn't want to have to settle for 3[-point attempts] but we had to do that."
The finish was much different from the Vikings' promising start.
Trailing 26-16, the Tigers appeared to be on their way to a romp when Richard collided with Jacob Heithamp and twisted an ankle. While he sat getting medical attention, the Vikings engineered a 9-0 run to climb back into the game.
The Tigers took control with a 16-8 third-quarter edge then pulled away with an 8-2 run to open the final quarter.
"They did a great job of not allowing me to get open looks," Aldridge said. "They were one of the more physical teams that we played. They were very good at helping [each other] and they contested every shot."
Ahrens said the Tigers focused on not giving Aldridge open looks.
"With a hand in his face, he started missing and that's when it started going our way," Ahrens said. But he's a great player — we just came up big to stop him."
Vikings senior point guard Chris Clevenger shook off the effects of a twisted ankle he suffered on Monday to score seven points, five in the first quarter. Senior guard John Richards sank two 3-pointers for six points while seniors Carl Brown and Tyler Shiamone each had four points.
Richards said the Vikings weren't nervous playing in the huge arena.
"We were ready for this game," Richards said.
Kiser said both teams shot well early.
"I didn't feel that we were tight at all," Kiser said. "We've done that the whole tournament run — we've come out confident."
The Vikings' other seniors are Nate Middleton, James Hall and Paul Zigmont.
"We're all best friends," said Richards of the Vikings' seven seniors. "It's who I want to [finish varsity] with. It's nice getting this far, making history for LaBrae."