Rotary club raises funds through flapjacks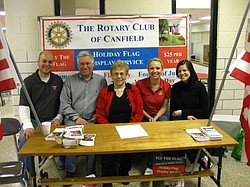 Photo
Members of the Rotary Club of Canfield who volunteered at the organization's pancake breakfast included, from left, Chris Bland, community chair; Eric Axelson, program chair; Dolores Saunders, honorary member; Brianna Komara-Pridon, president and Breanna Fitzgerald, secretary.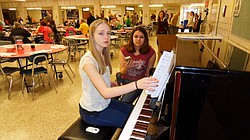 Photo
Neighbors | Submitted.Kayleigh Saunders, of Columbiana, entertained breakfast-goers by playing the piano at the Rotary Club of Canfield pancake breakfast March 10.
By ABBY SLANKER
The Rotary Club of Canfield served a hearty breakfast during its annual pancake breakfast March 10, in the Canfield High School cafeteria. The club expected to serve 600 breakfasts, which also included eggs, sausage, coffee and orange juice.
According to Brianna Komara-Pridon, Rotary Club of Canfield president, the breakfast has been held for more than 30 years and is one of two main fundraisers for the organization.
"The proceeds from the breakfast go toward community events such as the Fourth of July fireworks and scholarships for Canfield High School students," Komara-Pridon said.
Several Rotarians volunteered at the breakfast, along with Canfield High School Interact Club members, performing such tasks as cooking, bussing tables, washing dishes and serving food.
Local businesses who provided donations included DiRusso's, Bob Evans, Ange Netta's Bakery and Caf , Chick-fil-A, Farmers National Bank, Canfield Giant Eagle, Marlowe's Coffee, Olfield Graphics, REACH Magazine, Sam's Club, Western Reserve Sparkle Market, Walmart, White House Fruit Farm, IHOP Restaurant, McDonald's, Turner's, Davidson's Restaurant, Lamar Advertisitn Company, Thano's Restaurant, Woodlands, Boak and Sons, Komara Jewelers, John Morvay of American Portfolios, Randy Swartz of Wells Fargo Advisors, Tom Danko of State Farm, Donnie Dragish of DG&T, Photo Mattes, Magnolias on the Green Salon, Stifel, Nicolaus and Co., Packer Thomas, Mark J. Squicquero, D.D.S., Stephen Rogers of Burgan Real Estate, Storage and More and Sieglinde Warren, assistant governor, Rotary District 6650.
In addition to breakfast, attendees were treated to Canfield High School students playing the piano and singing. Entertainment was provided by Neil Johnson, Alice Nicolas and Haley Ward. Nicolas is a Rotary exchange student from Belgium. Kaleigh Saunders of Columbiana also played the piano.
"We would like to thank the community for all their support and for making this breakfast possible," said Komara-Pridon.
The organization also participated in Operation Warm, which provides new coats for local children, by collecting $1,385 to buy new coats. The program is a joint Division 1-A program between Canfield, Youngstown, Boardman, Struthers, Austintown and Poland.