Robinwood science fair a family affair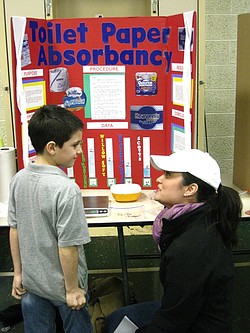 Photo
Neighbors | Abby Slanker .Jess Briganti, of WFMJ TV21, talked to a Robinwood Lane Elementary School student about his science project as she served as the judge of the school's Family Science Fair March 12.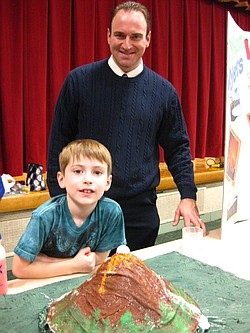 Photo
Neighbors | Abby Slanker .Robinwood Lane Elementary School second-grader Dylan Myers and his dad, Brett, made and demonstrated a working volcano for the school's Family Science Fair and Book Fair March 12.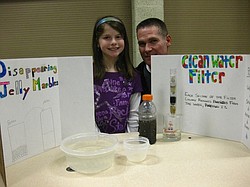 Photo
Neighbors | Abby Slanker.Riley Storey, a third-grade student, and her dad, Dave, presented two science experiments at Robinwood Lane Elementary School's Family Science Fair and Book Fair March 12. The Storeys experimented with disappearing jelly marbles and a clean water filter.
By ABBY SLANKER
Robinwood Lane Elementary School incorporated family, science, books, shopping and fun during the school's Family Science Fair and Book Fair March 12.
School librarian Kim Gorski organized the event, with the help of PTA volunteers, which brought out hundreds of students and their families.
"The theme for our book fair this year is Story Laboratory, so I decided to tie in a family science fair for our family-oriented event this evening," Gorski said.
Gorski sent a note home with all students asking for volunteers to create a science project as a family to put on display during the combined science fair and book fair.
"We have more than 30 displays set up in the gym. The children made the projects with the help of their families and they are presenting their projects as a family," Gorski said.
Teachers from each grade level also had hands-on experiments for the students and their families to try, such as sound waves and the stinky cheese experiment.
"I can't thank the teachers enough. They came up with these hands-on experiments and donated their time to our family event. The kids are really enjoying the experiments," Gorski said.
Each family was also given the opportunity to win a four pack of circus tickets or a four pack of Phantoms hockey tickets, just by attending the event.
"As the families enter the school, they are being handed a ticket to fill out and put in a drawing for the tickets, which were donated by the circus and the Phantoms," Gorski said.
As an added bonus for the science project volunteers, Gorski invited Jess Briganti of WFMJ Channel 21 to judge the science fair.
"Jess will visit will each student and their family and talk about their science project. She will then pick a first place, a second place and a third place winner. All other participants will receive an honorable mention ribbon," Gorski said.
Gorski also invited Darrell Wallace, director of Advanced Manufacturing Work Force Initiatives for Youngstown State University, to demonstrate 3-D printing. Wallace is also the deputy director for Work Force and Educational Outreach for National Additive Manufacturing Innovation Institute located in Youngstown.