YSU women cut down Sycamores in WNIT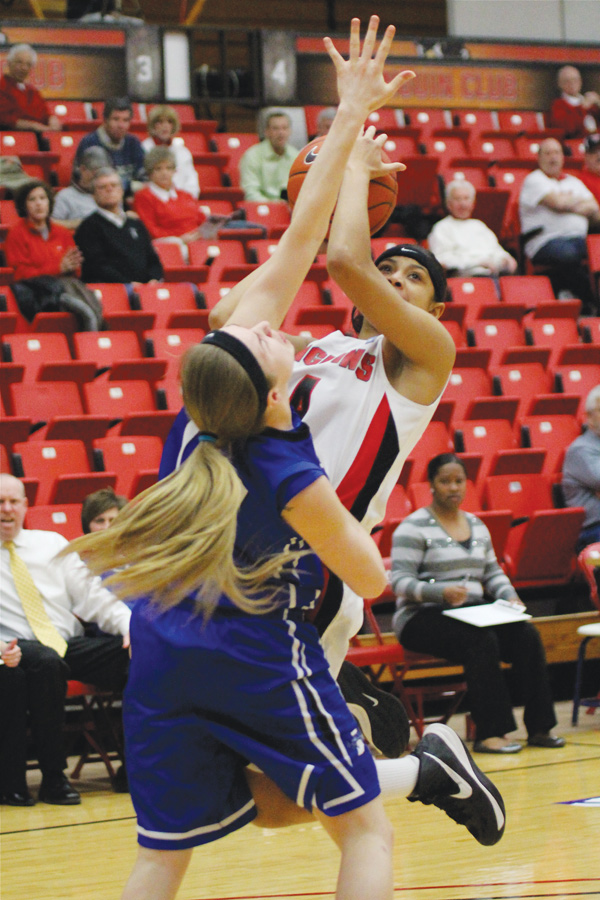 ---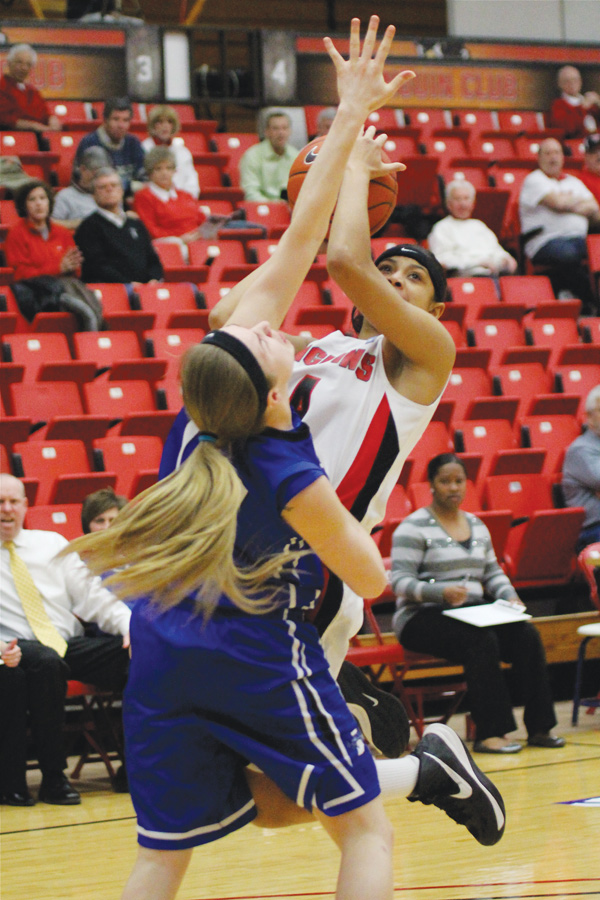 Photo
Youngstown State's Shar'Rae Davis (4) goes for a jump shot against Indiana State defender Natasha Zurek during their game Thursday during Round 1 of the WNIT at YSU's Beeghly Center. The Penguins cut down the Sycamores, 63-51.
By Joe Catullo
YOUNGSTOWN
With 13:12 remaining in Thursday's game, Anna Munn hit a jumper for Indiana State that cut the Sycamores' deficit to three.
While the players were running back, Youngstown State guard Liz Hornberger stayed on the floor, holding her right ankle.
The crowd sat in silence. All that could be heard was YSU's radio announcer and typing on a computer keyboard. After two trainers carried Hornberger to the bench, YSU huddled together, and Brandi Brown heard her voice from a distance.
"We heard Liz screaming from the bench to keep playing hard," Brown said. "That's what she wanted us to do."
With Hornberger's ankle being taped and braced, the Penguins locked in defensively the rest of the way and won, 63-51, during first-round action of the WNIT. Hornberger later returned and finished with 10 points — all in the first half.
"I knew that she was going to be back on the court," teammate Heidi Schlegel said. "That's Liz. She hurts her ankle all the time, and she's back on the court in 20 minutes."
Coach Bob Boldon said Hornberger's ankle is fine as far as he knows and expects her to return for Saturday's game at Toledo. The Penguins and Rockets — the 2011 WNIT champions — will meet at 2 p.m. at Savage Arena.
While the Penguins (23-9) almost faced a heartbreaker, they welcomed back Schlegel, who missed the last seven games with a knee injury. In her first game since Feb. 21 against Cleveland State, Schlegel scored 12 points and grabbed five rebounds.
"There's no words to describe it," Schlegel said on her return. "All day I was just … I couldn't even contain my excitement."
Brown, who finished with a game-high 16 points and 10 rebounds, was just as excited.
"Heidi always comes in and gives a lot of energy," Brown said. "You know she wants to be out there. You know she wants to play hard, and I think she did exactly that. I'm happy that I played another game with her."
YSU held a 29-23 lead at halftime when the Sycamores (18-13) made their run. They even cut the deficit to one with 14:53 remaining, but were outscored 29-22 the rest of the way.
YSU also broke the school record for most home victories in a season with 14.
The Penguins' victory over the Sycamores comes six days after they fell to Loyola, 72-45, in the Horizon League Tournament on Friday. Boldon said since returning to campus early Saturday afternoon, practices have changed.
"We haven't practiced for more than a hour since we've been back, and it's been very workman-like," Boldon said. "The kids are just coming in and doing their jobs, just coming in and getting back to the basics."
Boldon added that his team has handled losses well all year, and Thursday was no exception. YSU is now 9-0 after losses.
"Sometimes it takes a loss to get your attention, unfortunately," he said. "I think once you get really good, you don't need to lose to get better. But while you're going through the process, a lot of times you need to lose a game to get better, and that's where we're at right now unfortunately."