Keeping a commitment to shed pounds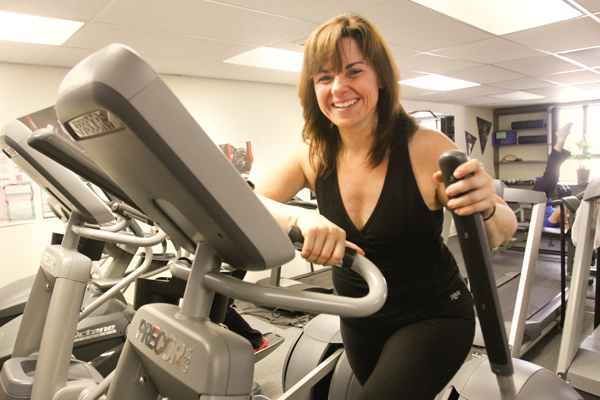 ---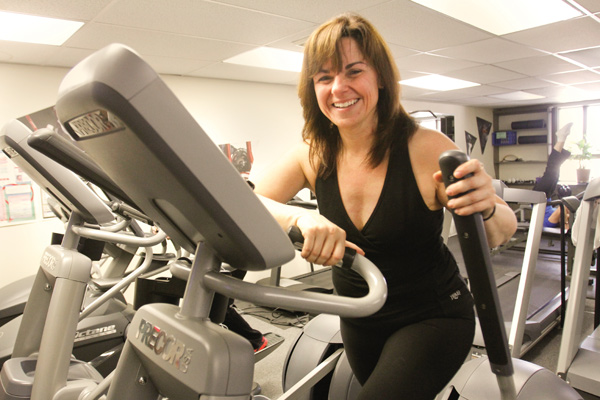 Photo
Marianne Kosek of Youngstown is sticking to her New Year's resolution, working out regularly at Fit Family in Austintown and eating right. Kosek set 10 pounds as her weight-loss goal for 2013. She's lost 5 pounds so far.
By Denise Dick
Austintown
Nearly three months into 2013, Marianne Kosek is holding to her New Year's weight-loss resolution.
She's ramped up her fitness routine from working out twice per week to four times weekly at Fit Family on state Route 46.
The Youngstown woman has lost 5 pounds this year. She set 10 pounds as her goal.
"I'd still like to lose five more, but I'm focusing more on how I feel," Kosek said. "I have more energy."
She's dropped inches and chiseled out muscle definition as well.
"I decided to do this instead of retail therapy," Kosek said.
She views her workout sessions as appointments, writing them down in her date book along with other meetings and engagements.
Kosek does two strength and two Pilates sessions with Doris Bullock, Fit Family co-owner and a certified personal trainer and Pilates instructor. Doris and her husband, John Bullock, own the fitness facility. Kosek also does cardio five to six days per week, opting for either the elliptical trainer or treadmill at the gym or an exercise DVD or a walk at home.
"She [Doris] likes me to do 55 minutes of cardio," Kosek said of her trainer.
Kosek has made a commitment to fitness.
"You have to think of it as an investment in yourself," she said.
For those who have difficulty sticking to a fitness regime, Doris urges them not to give up — even if trying to talk yourself out of a workout because of an ache or pain.
"You'll feel better after you work out," she assures.
John agrees. Working the muscle builds strength, making it feel better.
While Kosek has stuck to her fitness, Susan Canavan, also of Youngstown, had to stop her workouts a couple of months ago because of back problems and her doctor's advice.
"I'm planning on going back in April," she said. "I'm not giving up."
She's noticed that since she stopped working out, she has less energy.
Both women were interviewed last December for a Vindicator story about weight loss and fitness resolutions.
Doris often sees people who start enthusiastically with a goal only to lose interest a few weeks later.
To try to get them back on the fitness bandwagon, she calls them, letting them know they've been missed. Sometimes it's more than one phone call.
Some eventually return to the gym, asking for help getting back on track.
"The first thing I do is an assessment," Doris said.
An assessment helps her learn whether the person's fitness level has changed and how to adjust an exercise routine accordingly.
The Bullocks caution that exercise is just part of the equation in a weight-loss plan or healthy lifestyle. Diet is important too.
"You can lose weight just by diet," Doris said.
"But you won't be building muscle," John added.
Even people who appear thin may be carrying extra fat around their internal organs that may pose health risks.
Regular exercise helps get rid of that, John said.
The gym owners are big proponents of journaling, writing down what you eat and which exercise you do each day.
"It's about accountability," John said.
Kosek keeps track of her meals and snacks in a food journal. Pizza and beer are her indulgence although she's cut that to about once every two weeks.
Allowing yourself occasional treats is important to a successful weight-loss plan, too, Doris said.
Kosek and her daughter, Jessica Fryda, 23, who also works out with Doris, have started cooking more. That ensures they're making healthful eating choices rather than stopping for fast food or grabbing cookies or chips from the cupboard. Fryda has dropped 26 pounds since October.
More like this from vindy.com