Book fair: Knowledge is power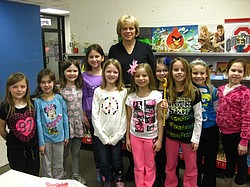 Photo
Neighbors | Abby Slanker .Hilltop Elementary School Librarian Sue Henderson, back, organized the school's annual book fair, with the theme of Story Laboratory, and helped second-grade students shop for books March 11.
By ABBY SLANKER
Students at Hilltop Elementary School visited the story laboratory during the school's annual book fair over three days during their regularly scheduled library times.
Sue Henderson, Hilltop Elementary School and C.H. Campbell Elementary School librarian, organized the book fair with the help of PTO volunteers, including book fair chairperson Maria Householder. Members of the school's PTO set up the book fair, operated the checkout and helped students select books. Parents and grandparents were also invited to the book fair to help the students shop.
"This year's theme is Story Laboratory, telling the students reading gives you super powers, like knowledge," Henderson said.
The students visited the book fair the week before shopping so they could create a wish list of books to purchase.
A variety of books of all reading levels were available, including chapter books, picture books, facts and stat books, reference books, cookbooks, best-sellers and books about animals.
"We offer preschool-level books to middle school-level books so the students have the opportunity to buy books for their siblings, too," Henderson said.
The book fair also offered adult best-sellers for the parents and grandparents. Students could also purchase bookmarks, pencils, novelty erasers, journals, pens, posters, stickers and more.
The book fair is a fundraiser for the school, with 25 percent of the proceeds going to the school. Henderson uses those proceeds to buy books to add to the school's library collection.
The students could also purchase gift certificates for their teacher, which then allowed the teacher to shop for books at the book fair to be used in their classroom.