Connie Hathorn discusses plan to restructure schools
---
VTR: Connie Hathorn - Superintendent of the Youngstown City Schools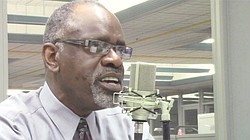 Video Set
Vindy Talk Radio is back on the airwaves today from 8 to noon joined by Louie Free.
In addition to Louie's normal program, we will have:
@ 9:30, Louie and Vindy Editor Todd Franko talk with Ohio Attorney General Mike DeWine.
@ 10, Youngstown City Schools superintendent Connie Hathorn will discuss his plan to restructure schools in an effort to boost student choice, cut costs and bolster achievement.
@ 11, Dr. Adam C. Earnheardt, Department of Communication Chair at YSU, will discuss the Steubenville rape case with Louie and Vindicator Managing Editor Mark Sweetwood.
Click below to listen to the show live from Vindy.com or to stream from your smartphone, go to vindy.com/mobile/vindy-radio.
And by Friday morning, the best of the show will be featured in video segments on vindy.com.
Click here to listen to the show.