Passion play involves audience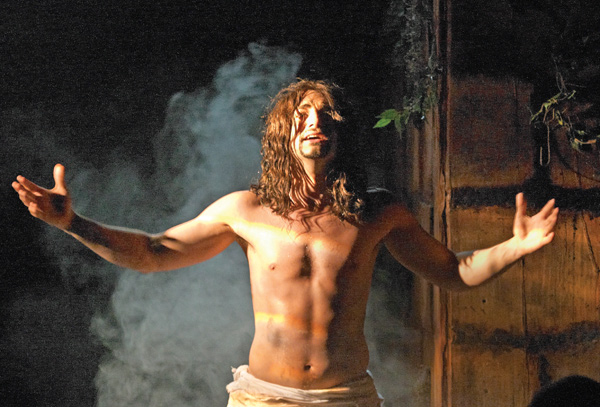 ---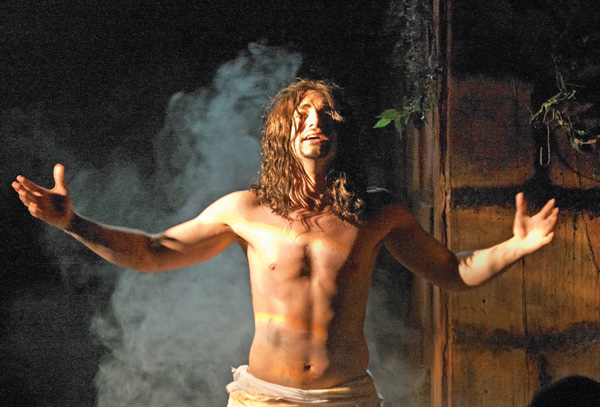 Photo
Brian Palumbo portrays Jesus. He was among a group of teens who started a Christian theater group that toured with the play.
By LINDA M. LINONIS
Youngstown
Brian Palumbo admits a segment of "The Earth Trembled" breaks the "fourth wall," the imaginary barrier between the audience and actors on stage.
But doing so has contributed to the power of the Passion play in which the audience "becomes part of the crowd at the crucifixion," the president of Top Hat Productions said.
For Palumbo, the effect of the Passion play was summed up by an audience member. The person told him he had learned about Christ's Passion, but through the show, he lived it.
Palumbo said he hoped audience members would have a new understanding and appreciation of the sacrifice that Jesus made for humanity. "It's a remarkable story," he said.
Palumbo said the play, which depicts the crucifixion, death and resurrection of Jesus, is logging its 21st season. Palumbo, who's nearing his 40th birthday, was among a group of teens that formed a theater group more than two decades ago.
He said the troupe members, who are Christians, wanted to "address issues facing youth." Core members are Palumbo; his sister, Julie Palumbo; Josh Noble and Rochelle Joy.
Beginning with skits presented to social service organizations, the group performs at church festivals, afterschool programs and civic organizations. Among topics are drug awareness, cultural diversity and conflict resolution.
"We were doing theater as an outreach to kids. It was a safe place for them," Palumbo said.
Palumbo said under the umbrella of Lost Then Found Ministries, Top Hat Productions was formed in 1992. That year, the company presented its first Passion play in Conneaut, Ohio. The troupe toured for more than 10 years, presenting the Passion play at various churches.
Working with Trumbull Baptist Association and Neighborhhood Ministries, Top Hat found a permanent home at Fairview Arts and Outreach Center. Palumbo said volunteers transformed the former church into a multipurpose building with a stage.
"This is the greatest thing I did in my life," Palumbo said of the nonprofit, volunteer-based Christian organization. Fairview also presents other stage productions and offers apprenticeship programs in technical theater for youth.
"What we do is Christ-based," Palumbo said. "We want to show the importance of the spiritual in our lives and how the love of Jesus can benefit our community."
Top Hat's mission "is to enrich the lives of people it serves by fostering a learning environment and providing instructions necessary for intellectual, spiritual and personal development. ... Top Hat works through stage performance and community outreach to bring together different social and economical groups in a nonthreatening and nondiscriminating setting."
"The Earth Trembled" is an original script; it begins right before the Last Supper and concludes at the ascension of Jesus. About 50 percent of the music in the show was written by Palumbo and Robert Noble, musical director, who's retired from Struthers school district. Noble wrote "Remember Me," which is sung at the Last Supper.
Palumbo said it takes about 70 cast and crew to produce the play. He said there are two to three people who perform many of the main roles so there's always someone who can step in. It's all volunteer. "I love to be here and can't count the hours I'm here," he said.
He said Top Hat offers summer theater programs for youth and sponsors Jammin' for Jesus, a community outreach event in August, with Lost Then Found Ministries. Palumbo, who owns Selah restaurant in Struthers, said it provides meals once a month at the Dorothy Day House of Hospitality in Youngstown.