Hubbard cops sharpen response skills with simulations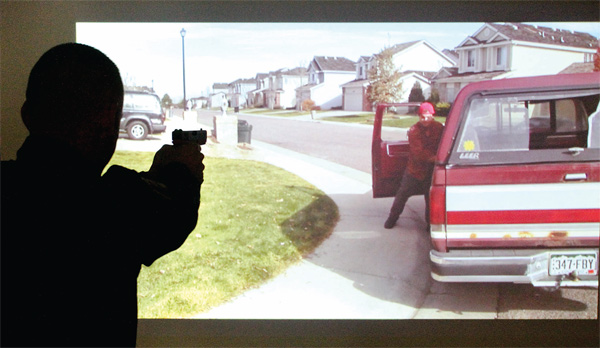 ---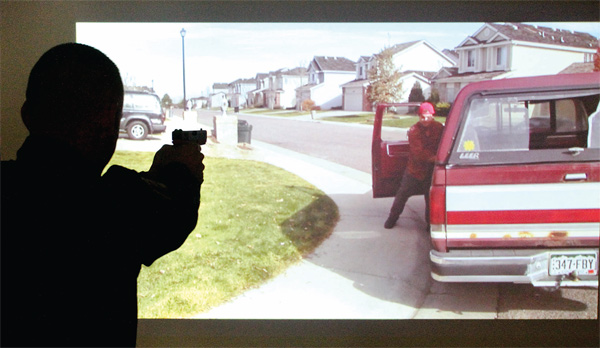 Photo
Hubbard Police Dept ptlm Brian Horne takes aim during a firearms training simualtion at the Police Dept Tuesday 3-19-13.
BY DANNY RESTIVO
drestivo@vindy.com
HUBBARD
The ability to make a split-second decision is a skill police officers must master.
"It's rare that we have to pull our weapon, but when we do, we have to be ready for anything," said Officer Brian Horner.
Horner and 21 other city policemen sharpened their reaction skills during a week-long police officer training course provided by the Ohio Attorney General's office and the Ohio Peace Officer Training Academy.
The training exercise included an interactive shooting simulator that tested judgement and decisiveness under various circumstances. The video game-like module had nearly 400 scenarios that
included domestic violence calls, burglaries, agitated motorists and school shootings.
"All these scenarios have actually occurred or they are based off a similar situation police have encountered," said Frank Chung, a law enforcement training officer with the attorney general's office.
Chung administered the training session to Horner and Officer Michael Banic. The two acted as partners during the simulation. During each scenario Banic and Horner responded to a particular call for service. After learning the nature of the call, they shouted commands to the subjects on screen before deciding whether to escalate their use of force.
In one scenario, Banic and Horner came upon a pharmacy being burglarized. After finding and ordering one suspect to the ground, another suspect came onto the screen and starting shooting at the officers. Both Banic and Horner quickly incapacitated the shooter.
After completing each scenario, Chung questioned them on their motives and reasons for action. He also told them other options at their disposal.
"It's not my job to tell them if they were right or wrong," said Chung. "This is for them to better their judgement and decision-making skills."
As in real situations, the simulated situations forced officers to decide whether to use non-lethal or lethal force, or just talk someone down. While some of the scenarios resulted in officers shooting at the suspects on screen, many of them ended with a verbal command.
"We want officers to know that a majority of the people they deal with are compliant," said Chung. "This training is to make sure they are ready for anything."
Chung, who was a full-time officer for 13 years in the Olmstead Falls police department, travels throughout northeastern Ohio administering the training to departments looking for training without traveling and encumbering costs to their budgets. The free training is provided at the request of the department.
"This puts into practice everything they've learn to enhance their judgement," said Chief James Taafe. "And we get to train for free."
While the training is not a state requirement for departments, those participating thought it was worth their time.
"We got a lot of it today," said Banic. " Most of the things we saw in the simulation we don't normally see, so it's good to keep our senses sharp for anything we might see in the future."
More like this from vindy.com