LaBrae to make state tournament debut today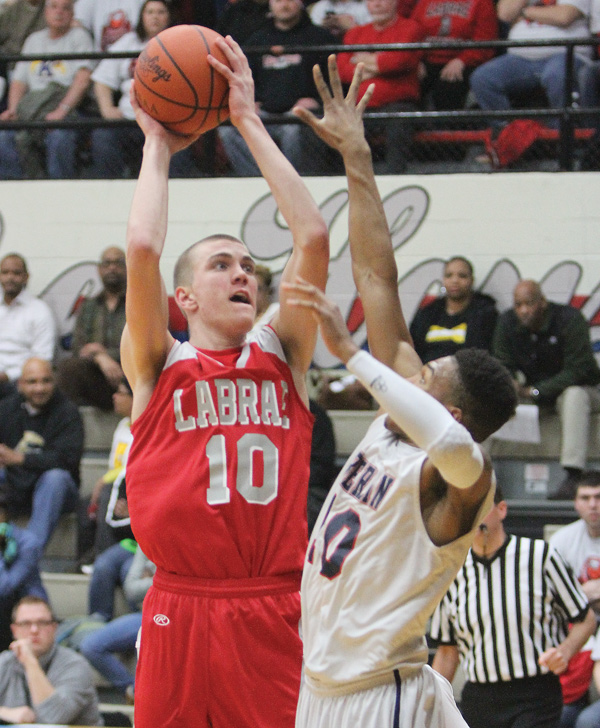 ---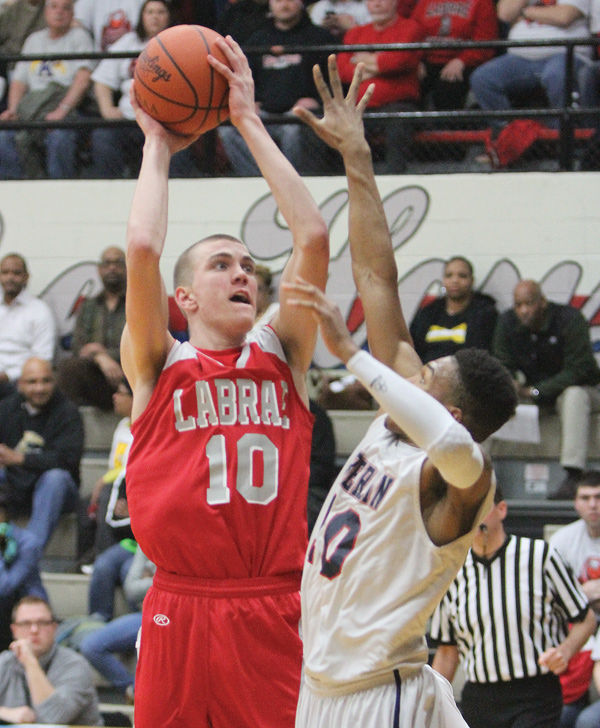 Photo
Today's Division III state semifinal high school basketball game in Columbus is slated to be the battle between two big men with college futures: LaBrae's 6-foot-7 Peyton Aldridge (10), above, and Versailles' 6-foot-5 Kyle Ahrens.
LaBrae's Aldridge, Versailles' Ahrens
to meet in Division III state semifinal
By Tom Williams
LEAVITTSBURG
With the LaBrae High basketball entering the uncharted waters of the state tournament, you might expect the attention on the team's best player to be even even more intense.
But junior forward Peyton Aldridge, the two-time Northeast Ohio Inland Player of the Year for Division III, says it's been business as usual during the Vikings' best postseason run.
"It's been the same," said Aldridge of college recruiting calls, texts and emails. "I think college coaches really understand that we need to focus on the season and finishing out the season on a high note."
Today at 2 p.m. in Columbus, LaBrae (24-3) will make its first state appearance, taking on Versailles (22-5) in a state semifinal at Ohio State University's Value City Arena.
The Tigers of the Midwest Athletic Conference in Southwest Ohio are making their second state appearance. In 2004, Versailles was state runner-up to league rival St. Henry.
The game will be a battle of two big men with college futures. Aldridge, who is 6-foot-7, averages 20 points per games and 12 rebounds. A first-team all-Ohio honoree, he's received about 10 scholarship offers.
"Mostly Mid-American Conference schools, some Horizon League schools," Aldridge said.
Versailles' best player is 6-5 sophomore guard Kyle Ahrens, who already has offers from Boston College and Miami (Ohio). He also averages 20 points per game and is a member of the King James Shooting Stars AAU team.
Aldridge and Ahrens have played each other in AUU competition. Chad Winner, a 6-4 senior guard, is the other returning starter from last year's team that bowed out in a regional semifinal.
LaBrae's other starters are seniors, including senior point guard Chris Clevenger who is expected to play despite suffering an ankle injury on Monday in a fall on icy steps.
The other guards are Carl Brown and John Richards. Nate Middleton is the other forward while junior forward Marcell Richardson will see plenty of action.
While the Vikings enjoyed easy wins in the regional (75-52 over Oberlin and 59-30 over Beachwood), the Tigers had a nail-biter in their regional championship game, a 56-53 victory over St. Bernard Roger Bacon in Kettering.
The Tigers trailed 53-52 before Aherns scored with 13 seconds remaining. He finished with 18 points while Winner contributed 14 and Evan Phlipot 12.
"They play in a very good basketball league — the MAC with Coldwater, Delphos St. John's, St. Henry," LaBrae head coach Chad Kiser said.
"It's just a storied kind of league in multiple sports," Kiser said. "Their [schools are] always winning in some division in football or at least they are in the state championship [game].
"In basketball, it seems like every year, they are [at state] in Division IV or III."
Kiser says the Vikings will be challenged.
"They have great athletes — tough, well-coached, battle-tested," Kiser said. "Just great sports towns in that area.
"They've got two outstanding guys," Kiser said. "Everyone's team has got to be playing well to get [to state] so I imagine they're role players are playing very well."
The Tigers' mission will be to contain Aldridge.
"Team-wise, he's just that centerpiece that holds us all together," said Kiser who appreciates his top player's demeanor. "Guys that are talented a lot of times get cocky — overshoot the ball, really try to take it on their shoulders and do it all themselves.
"Peyton is just a great teammate. He'll work around and put his teammates near the ball. And when teams take him away, he'll find the open guy."