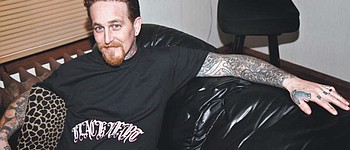 Youngstown commission rejects downtown tattoo parlor
Published: 3/20/13 @ 12:01
By DAVID SKOLNICK
skolnick@vindy.com
YOUNGSTOWN
The city's planning commission and a city councilwoman prefer a downtown building remain vacant rather than have a tattoo parlor there.
The commission voted 3-1 Tuesday against recommending a waiver for Lance Peck, who owns Blackheart Tattoo on Mahoning Avenue in Austintown, to open a second parlor at 101 W. Federal St., the location of the former William Leonard's Extraordinary Spa and Salon, which closed last year.
Before the vote, Councilwoman Annie Gillam, D-1st, whose ward includes downtown, said, "I don't want to see [a tattoo parlor] in that location." She added that "we want to create a certain atmosphere" downtown.
The commission voted last year in favor of recommending a waiver — later approved by city council, which makes the final decision on all waivers — to allow Blue Magic
Tattoos and Piercings to open at 217 W. Federal St., near Blackheart's proposed location.
After the vote, Peck said, "I don't know why they'd stifle small business. If they keep shooting people down, people will stop coming here. What I heard is, 'It's too good for you.'"
Peck said the downtown location would be similar to his business in Austintown, featuring work by local artists, including sculptures, wood carvings and screen-printing clothes.
"More art downtown in that area would be a big help to everyone," he said. "A little bit of art and culture would do the city good."
Peck also said he is heavily involved in positive activities for youths, such as Halloween parties and Easter egg hunts, closes his business at 9 p.m. Monday through Thursday and at 10 p.m. Fridays and Saturdays, and doesn't tattoo anyone who is intoxicated.
He wants to hire about three or four people at the downtown location with an average annual salary of $35,000.
Peck needs a waiver because tattoo parlors are among the businesses considered "regulated use" under the city zoning code.
Other businesses with that designation including secondhand stores, bars and other places that sell alcoholic beverages, pornographic movie theaters, strip clubs and payday lenders.
Even with the 3-1 vote against Peck, the commission didn't reject the proposal.
There are supposed to be seven members on the commission, so votes of fewer than four, a majority, aren't binding.
There are currently six members. Jill Carter and Mayor Charles Sammarone — for at least the past 15 years or so, mayors skip a majority of planning commission meetings — didn't show Tuesday. Sammarone is supposed to select someone for that seventh commission position that's been vacant for about two months.
Angelo Pignatelli, a longtime commission member, said if he and Irving Lev, another member, do not show up, there wouldn't be any commission meetings. The two attend nearly every meeting. The two other members at Tuesday's meeting, Law Director Anthony Farris and Charles Shasho, deputy director of public works, also regularly attend commission meetings.
Shasho, the lone commission member at Tuesday's meeting to vote against denying Peck the waiver, said, "We need more culture downtown."
Lev said he voted against the waiver because "these more low-end things hurt the city."
Also Tuesday, the commission voted 2-2 on a waiver for a secondhand store at 1914 E. Midlothian Blvd.
"It's not conducive to the area," said Pignatelli, who, along with Lev, voted against the waiver.
Like the tattoo parlor, the request for the secondhand store waiver didn't receive four votes, so it remains unresolved.
Councilman John R. Swierz, D-7th, who represents that ward, spoke Tuesday in support of allowing the store to open.
Don't Miss a Story
Sign up for our newsletter to receive daily news directly in your inbox.