Kiser directs state-bound LaBrae boys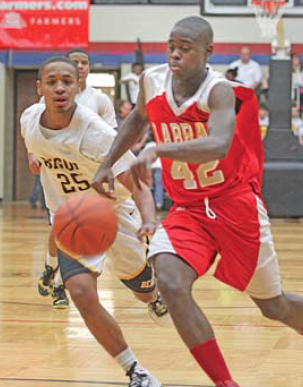 ---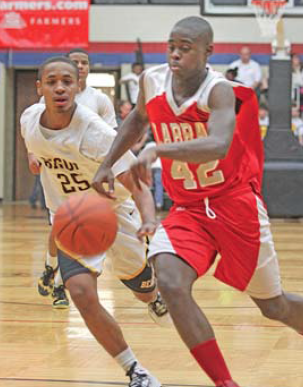 Photo
LaBrae's Marcell Richardson (42) outraces Beachwood's Julio Stevens (25) to the ball in their Division III regional final in Canton. LaBrae won, 59-30, to advance to the state tournament in Columbus.
By Tom Williams
LEAVITTSBURG
It's hard to imagine a sporting event that LaBrae High basketball coach Chad Kiser wouldn't want to coach.
He's been a varsity track and field coach and a football assistant. In softball, Kiser led LaBrae to the state semifinals in 2005 and was in the dugout helping Champion High win state titles the past two seasons.
This week, Kiser is preparing his Vikings (24-3) for the biggest game in school history — Thursday's Division III state semifinal match against Versailles (22-5).
While softball and basketball may be considered apples and oranges, Kiser says there are some similarities to his most successful teams.
"We [also] were very much under the radar," Kiser said of the softball team. "Didn't even win the league but we played Champion for a third time. They had a really good team, as they always do in softball.
"We beat them in district and Mooney in the regional final," said Kiser, adding, "[We] just kind of caught fire at the right time."
In the state semifinal game at Ashland, LaBrae lost to eventual state champion Sycamore Mohawk.
"It was a magical run," Kiser said.
As is the Vikings' current postseason journey. After sweating out a double-overtime victory against Ursuline in the Howland district final, LaBrae romped at the Canton regional, blasting Oberlin (75-52) and Beachwood (59-30) to earn the school's first trip to state.
"We had a nice group of girls who really got along," said Kiser, who feels the same way about his basketball team which features seven seniors who have been playing together since fourth grade. And junior Peyton Aldridge, the Vikings' best player, has been with those seniors except when separated in junior high.
A Windham High and Kent State University graduate, Kiser teaches math at LaBrae Middle School. He and his wife, Kim, have two children: Mackenzie, a senior at Champion, and Logan, a seventh grader at LaBrae Middle School.
This is Kiser's seventh season as varsity basketball coach, the sport he favors.
"It's just so fast-paced," Kiser said. "I enjoy it quite a bit."
He has no regrets about giving up the LaBrae softball job.
"It's rough," Kiser said of coaching two varsity sports. "The very first year, I did both. It's just too much — you've got to commit to one or the other because of the offseason stuff."
Which makes this part of the Kiser story so interesting. His team eliminated 2004 state semifinalist Champion in the 2005 district championship game. The following year, Champion finished as state runner-up.
Four seasons later, Champion softball coach Cheryl Weaver needed a reliable volunteer scorekeeper. While some might have felt that Kiser was public enemy number one, Weaver didn't hesitate to reach out to him upon Mackenzie's recommendation.
"Chad is a great guy, the girls love him," said Weaver, who admits that she's picky about statistics and wanted someone who could handle that responsibility. "Someone once said you should surround yourself with people who have knowledge. Well, he knows softball."
Mackenzie has had a stellar athletic career at Champion, scoring more than 1,000 points in basketball and playing on two state champion softball teams.
Weaver said there have been times that Kiser has seen things that she and her top assistant, Brent Swipas, missed.
"It's great having him in the dugout," Weaver said. "We've had some fun discussions."
To motivate his basketball players, Kiser showed him the ring he was given after Champion won.
"He brought out his [championship] ring right before the [regional] just to give us motivation," LaBrae senior guard Carl Brown said. "It worked. It basically looked beautiful and I'd like to have one, too."
Kiser said he did it to make the point that the Champion softball team and his basketball team have made similar journeys.
"I told them that those girls had been together since they were young, playing rec ball, travel ball," Kiser said. "They just had that confidence and played the game the right way and worked hard.
"And you just know a winner when you see it," Kiser said. "I looked at our guys and told them I see the same thing. I told them they've always won at every level. They do what it takes to win."