YSU defeats Oakland in CIT opener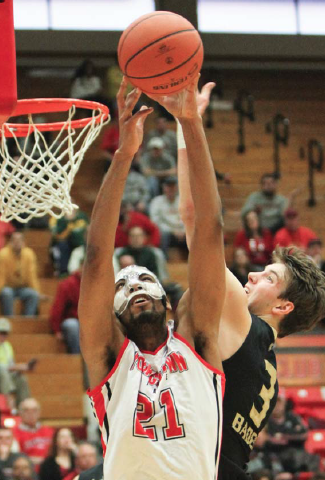 ---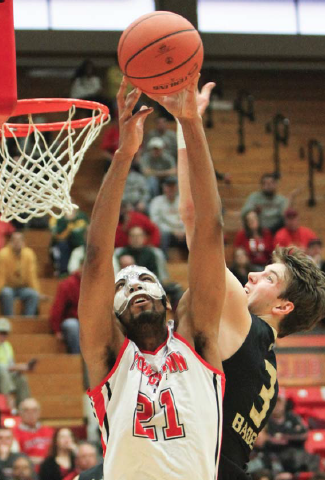 Photo
Youngstown State's Damian Eargle (21) goes to the basket as Oakland's Travis Bader (3) defends during a first-round CIT game Tuesday night at Beeghly Center. The Penguins won, 99-87.
By Joe Scalzo
YOUNGSTOWN
In a game full of firsts, only one thing mattered to Youngstown State senior Blake Allen — that it wouldn't be his last.
Allen tied a career-high with seven 3-pointers, helped the Penguins break the school single-season record for 3-pointers and reached 1,000 career points as Youngstown State played — and won — its first postseason tournament game as a Division I school, beating Oakland 99-87 on Tuesday at Beeghly Center.
"It feels really good to be a part of history," said Allen, who finished with 27 points and five assists. "When we got the invite to the tournament, we wanted to take it as far as we can take it.
"From a personal standpoint, we have a possibility of playing four more games. I'd love to play all four of those."
Playing in front of a feisty, but smaller-than-announced crowd of 3,056, YSU made 18 of 35 3-pointers — four more than the previous school record — and put five players in double figures.
"Wow," YSU coach Jerry Slocum said, when he saw his team attempted 35 3-pointers, 15 more than the average. "I don't know who their shooting coach is, but he did a heck of a job."
Who's the shooting coach?
"Me," he said, laughing.
Junior Kendrick Perry, who made his first start since Feb. 17, added 31 points, eight rebounds and five assists for the Penguins (18-15), who last played in the postseason in 1977, when they were in Division II.
"When you play, you always want to make your mark," said Perry, who has been battling an injured knee. "You always want to be known for something.
"I think it was a great opportunity that we had, especially in front of a good home crowd, that we were able to get the first postseason tournament win in YSU [Division I] history."
Unlike other tournaments, the CIT reseeds after each round based on geography, so YSU won't know its opponent until after tonight's other first-round games. Kent State, which plays Fairfield tonight, would be the most obvious choice. The Golden Flashes beat YSU 85-78 in OT on Nov. 19.
Second-round games will be played Saturday and Sunday.
Athletic director Ron Strollo said the school will bid for another home game, which costs $35,000. Tuesday's price tag was covered by area businesses and boosters and Strollo said the same would apply to future games.
Slocum, who opened the press conference reading off a list of businesses and fans who covered YSU's costs, said he was "humbled" by the area support.
"I'm glad that we could do our part [by winning]," Slocum said. "I don't say that lightly. I felt a lot of responsibility tonight for us to play well and to do a really good job.
"When you have people within two days that we get the bid, to step up and help us like this, I think it's tremendous. For us to be able on top of that to repay that with a win, and obviously the first time we've got a postseason win ever as a Division I program, it's special."
Junior Travis Bader scored 30 points to lead Oakland (16-17) while 6-foot-10 sophomore Corey Petros added 23 points, but just seven in the second half.
Kamren Belin had 16 points and nine rebounds, Bobby Hain scored 11 and Damian Eargle had 12 points, 10 rebounds and six blocks for YSU. Eargle and Perry also reached 1,000 career points this season, giving YSU three 1,000 points scorers in the same year for the first time.
All three did it in three years.