Pastor: Death of 6 teens is 'love wake up call' from God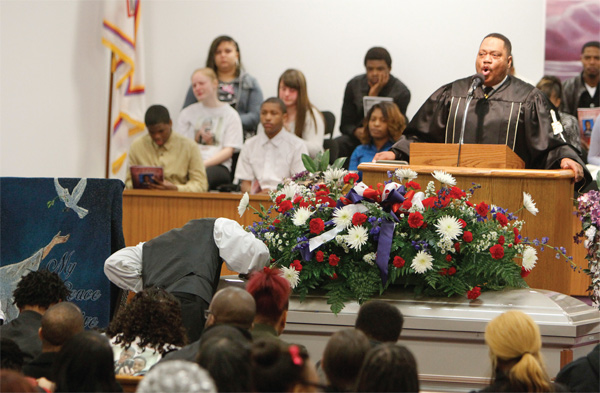 ---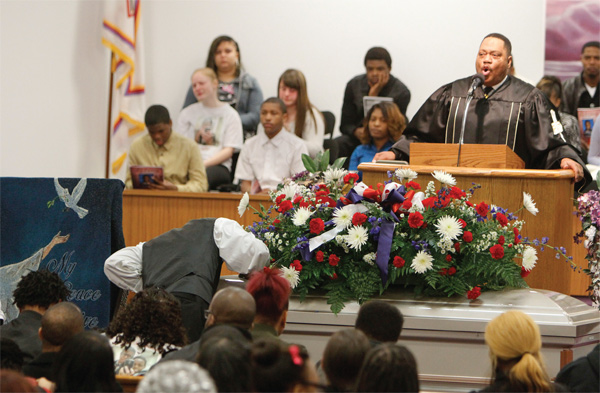 Photo
A mourner kisses the coffin of Daylan T. Ray, 15, after it was closed Monday as the Rev. Phillip Shealey of Greater Apostolic Faith Church in Warren delivers the eulogy. Daylan was one of six teens killed in a rollover SUV crash. The Rev. Mr. Shealey said parents have to be more vigilant as children grow.
By Ed Runyan
WARREN
The Rev. Phillip Shealey said he knew he wouldn't make everyone happy with the eulogy he gave Monday at the funeral of Daylan T. Ray, 15, one of the six teens killed in a March 10 car crash.
"Our children need us like never before. They don't need you to sit in church. They need you to bring them to church," he said.
Daylan was a student at the Willard K-8 School and a member of the Rev. Mr. Shealey's church, Greater Apostolic Faith Church on Tod Avenue Northwest. The teen played football for the Niles Little Red Dragons and played baseball in the Warren Athletic Club.
"A lot of young people think death is the end, and it's not. Too often at times like these we say, 'Everybody's going to heaven,'" Mr. Shealey said of funerals. "I got news for you. Everybody's not going to heaven. There is a place called hell."
Mr. Shealey said adults need to stop "petting" children, stop allowing them to misbehave and stop trying to be their friend.
Something has to be done or "we'll be looking at caskets week after week after week. I know you don't want to hear this, but it's the truth: God allows things to happen for a reason. This is a love wake-up call. If you don't wake up now, it's going to get worse and worse."
"We got to the point where we started giving our children things, trying to appease them and trying to win them," he said. "Things they did when they were small you thought were cute. When you tried to correct them and told them no, they looked you in the face and told you 'no' back. When they were 2 and 4 years old, that was cute.
"When they got 12 and 14 they told you not only 'no,' they told you 'shut up.' That's what happens when you don't train a child," he said.
The five boys ages 14 and 15, and girl, 19, who died in the crash were traveling south on Niles-Warren River Road, a mile south of downtown, when the car hit a guardrail and flipped into a pond.
Two people made it out of the car and sought help — Brian K. Henry, 18, and Asher C. Lewis, 15. The six others — driver Alexis Cayson, 19; Andrique Bennett, 14; Kirklan Behner, 15; Brandon Murray, 14; Ramone White, 15; and Ray — drowned.
The accident happened at 7 a.m. on a Sunday as the car traveled toward the neighborhood where most of the boys lived — apparently on their way home. Cayson had no license. No seat belts were worn. Police are still investigating where the youths had been overnight.
The last of the six funerals will be at noon today at New Freedom Missionary Baptist Church, 1590 Tod Ave. SW, for Ramone.
"Any time a child lives a life absent the knowledge of the Lord, you're in trouble because he'll say anything, he'll do anything. He'll be totally out of control. That's where we are today.
"Until we get back to God, I got news for you: It's not going to get better because we have not done our job. We sleep in our homes with a deadbolt on our own bedroom door because you're afraid to live with somebody you brought into this world," he said.
"A lot of them are suffering because of a lack of discipline in the home," he said. "I got news for you. It's not just your problem. It's our problem. I talk to you who have raised your children. Now it's time to adopt somebody else. Now is the time to pull someone to the side and say, 'I love you. I'll mentor you. I'll be here for you.'"
He said if adults "don't fix it now, some of these folks you're petting on now will be breaking into your house. Some of these people you're petting on will be stealing your car. Some of these people you're petting, you will be looking down the barrel of a gun because they'll be robbing you.
"It's better to be frustrated working with them to correct the problem than to look at caskets week after week after week."