LaBrae seniors headed for Columbus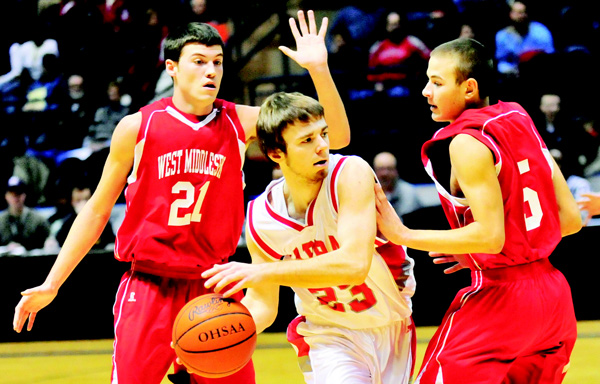 ---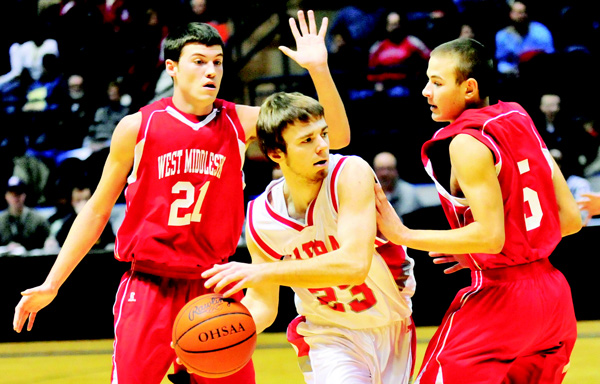 Photo
LaBrae senior John Richards (23) looks to pass while West Middlesex's Jerrod Palmer (5) and Jeremy Jansco (21) defend during a Jan. 20 basketball game at the Covelli Centre. LaBrae will play in the Division III state semifinals on Thursday in Columbus.
By Tom Williams
LEAVITTSBURG
Think your Monday morning commute was rough? Three days before the biggest game of his basketball career, LaBrae High senior point guard Chris Clevenger tripped on icy steps and twisted his left ankle.
With his ankle propped up, Clevenger watched his teammates practice for Thursday's Division III state semifinal game against Versailles.
"I'm looking to stay off of it until our game," said Clevenger, one of seven seniors on the Vikings (24-3). The others are forward Nate Middleton, guard Carl Brown, guard John Richards, forward Paul Zigmont, forward Kenny Hall and guard Tyler Shiamone.
Clevenger's mission over the next 48 hours is to "ice it, wrap it."
"I was pretty upset about it," Clevenger said in a calm voice that suggested otherwise. "It's one of the biggest games of my life, so I've got to get prepared."
If the ankle gives him trouble in Columbus, Clevenger said he believes sophomore Justin Jenkins is ready to fill in.
"He's a real good point guard, knows how to handle the ball," Clevenger said. "When I leave, he'll be coming up."
Brown agreed.
"He's only a sophomore but he's been playing a lot of varsity minutes," Brown said. "And we've got other guys coming off the bench. I think we will be fine."
Brown added that he hopes Clevenger will be healed. "He brings heart and hustle defense," Brown said.
The Vikings will arrive in Columbus on a roll. After surviving a double-overtime showdown against Ursuline in the district final, LaBrae dominated the Canton regional. The Vikings earned their first trip to state with a 75-52 romp over Oberlin and an even easier contest against Beachwood (59-30).
Junior Peyton Aldridge, the Northeast Inland player of the year for the second straight season, deservedly draws much of the attention. But his senior teammates have contributed their share.
Richards said it still hasn't sunk in that the Vikings have qualified for state.
"I hope it does by the time we get down there," Richards said. "It's crazy thinking we're going to state."
For Brown, the realization of the final week "has sunk in. It's been a good run and I just want to [end well] by winning state."
Forward Nate Middleton said he's not ready to think about the final week of his varsity career.
"First, we should focus on getting [a win] on Thursday and [another] on Saturday," Middleton said. "Then I'll finally realize that it's over."
In Saturday's regional title game at Canton Fieldhouse, the Vikings jumped out to a 17-0 lead over Beachwood.
"It was awesome," said Richards, noting that most of the team has been playing together since grade school. "That bond we have has stuck with us throughout the years. We're a big family."
Middleton remembers winning tournaments when they were fourth-graders.
"We've all kept our heads clean, we've all stayed in basketball," Middleton said. "I think it's going to turn out well."
Columbus has been a goal.
"Since we were little, we always thought we could make it to state," Brown said. "It feels good to be [going]."
Brown admitted sailing past Beachwood felt good, "but we don't want to get our heads too high. We still have basketball to play."
January losses to West Middlesex (67-56 at the Covelli Centre) and Brookfield were valuable lessons.
"We've always had the offense, I think we needed to step up on our defense and our rebounding," Middleton said.
In those games, Brown said he feels the Vikings never "put our heads down — we just kept fighting."