Columbiana Wrestling Club finishes strong at Covelli event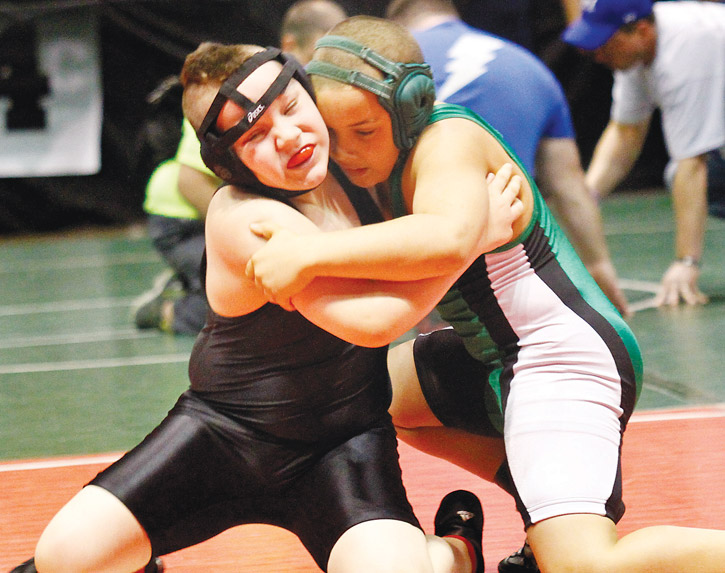 ---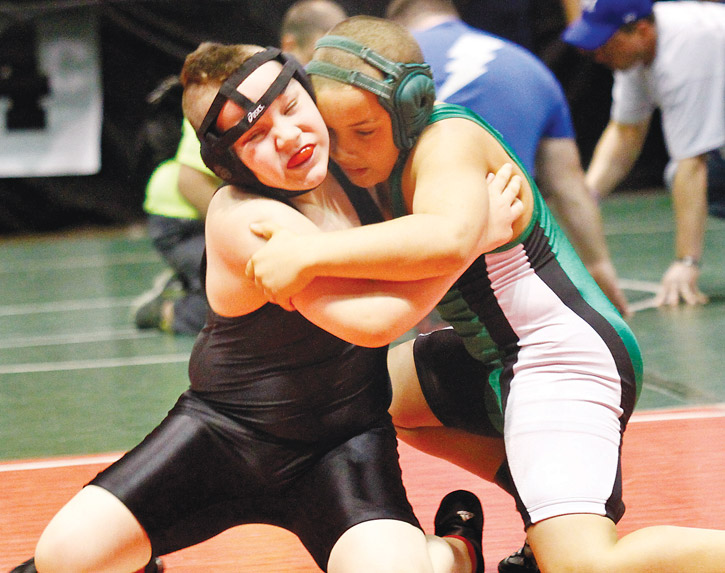 Photo
Columbiana's Andrew Stallsmith, left, grapples with Tyler Knight in the 120-pound weight division of the Ohio Athletic Conference grade school wrestling championships on Sunday at the Covelli Centre. Andrew lost the match but metaled.
YOUNGSTOWN
For the past three years, the Ohio Athletic Conference state grade school wrestling tournament has been held at the Covelli Centre. All three years, the Columbiana Wrestling Club has had at least one competitor place in the final standings.
A great accomplishment considering the club has only been in existence for three years.
Chris Canale, a former All-American at Ashland, is the head coach of the Clippers' high school team and felt the need to establish interest in wrestling at the youth level.
"He wanted to go somewhere and start a program," said Bob Davis, coach of the youth club. "He got in touch with [former Columbiana coach] Brian Pearl. They started having meetings about it and I showed up at one of them.
"It just took off from there."
Timmy Davin, a rising freshman at Columbiana, and Roclen Bettura placed in 2011 and 2012, respectively. This year, Bettura returned to the medal stand at 75 pounds along with Andrew Stallsmith at 120 pounds.
"You're able to have fun in wrestling," said Stallsmith, 9. "I like to goof around a lot and this one of the main sports where you can do that."
Branson Graham also wrestled late into the evening on Sunday and finished in sixth place at 75 pounds. Six of Columbiana's seven state qualifiers participated on Sunday.
"We just teach them basic moves," Davis, who is assisted by brothers, Harold and Cory Burt. "That's the key. These are moves that will last them a lifetime. We just drill them until they get them right."
Bettura had six wins over the weekend, including a 13-2 major decision over Nik Copenhauer in the consolation semifinals. Stallsmith had three wins with two pins.
"These guys will be able to keep coming every year," Davis said. "When they get to high school and are able to go to a state championship, it'll be no big deal.
"Nobody ever got a scholarship to college just out of youth wrestling. But that's why we bring them here — to get a taste of it and motivate them to make a name for themselves down the road."
Five of Brock Kimble's opponents won't be forgetting his name any time soon.
The Austintown sixth grader had five wins over the weekend. All came on pins.
"He just got after it," said Austintown coach Frank Giordano. "Most of our offense is done from the neutral position with our feet. You have to get the takedown before you get the pin."
Kimble's quickest win came in a consolation semifinal as he pinned Max Boyle in just 18 seconds. Kimble, who finished fourth at the 180-pound class, admits he's had at least five pins in under 10 seconds during the season.
"I snap them at the knees, roll them and get on top as fast as I can," he said.
Added Giordano, "That's on him. I can only coach the wrestling end of it. I can't coach the enthusiasm or effort and he's got a lot of both."
In February, Kimble captured the Ohio Youth Wrestling Association state title.
Canfield's Ethan Fletcher finished in fifth place at 71 pounds. He earned six wins and closed the tournament with a 15-0 technical fall over Casey Wiles.
Fitch High School wrestling coach Brett Powell, also a key member of the OAC staff, said there are talks to keep the tournament at the Covelli Centre for the foreseeable future.
"It's been so successful here," said Powell, who begins his days at 7 a.m. and doesn't leave until after 9 p.m. "Some of the people from Cincinnati or Dayton say the drive is too long, but even they enjoy the venue."
Prior to 2011, the tournament was held at a fairground in Marion.
"Here, there's better access to hotels and restaurants," Powell said. "The food variety is better and it smells better up here."