2 of 3 top Vindy Bee finishers echo last year's wins
By DENISE DICK
denise_dick@vindy.com
80th Spelling Bee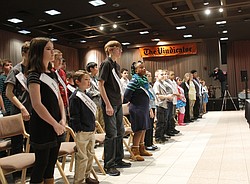 Gallery
YOUNGSTOWN
Max Lee outspelled 59 competitors to retain his title as Vindicator spelling bee grand champion.
Max, 13, an eighth-grader at Canfield Village Middle School, won The Vindicator's 80th Regional Spelling Bee Saturday in the 31st round. The son of Tac and Linglan Liu Lee also won the newspaper's 79th bee last year and placed second at the 2011 event.
Tamsin Day, an eighth-grader at Willow Creek Learning in Boardman, won second place for the second consecutive year.
Aaron Coates, an eighth-grader at St. Rose School in Girard, won third place after coming in fourth last year.
All three won trophies at the event in the Chestnut Room of Youngstown State University's Kilcawley Center.
Since Max already has his trophy from last year, he may not hold on to this one.
"I'm probably going to give it to the school," he said.
As grand champion of the Vindicator bee, Max will travel in May to Washington, D.C., to compete in the Scripps National Spelling Bee with about 270 other young spellers from across the country.
The Vindicator will pay for transportation, hotel accommodations and other expenses for Max and a parent.
Max says he's looking forward to that trip and a second appearance in the national contest.
"I'll probably study more than I did last year," he said.
The bee started with 60 students from Mahoning, Trumbull and Mercer counties — 29 boys and 31 girls. After the first round, the number had been whittled to 44, and after round two, 28 spellers were still in it.
That number fell to 15 after round three, and all of those spellers held on until round five when 10 spellers were left.
By round 12, it was down to four spellers, Max, Tamsin, Aaron and Josy Kirila, an eighth-grader at Brookfield Middle School.
Those four continued to battle it out until round 21 when Josy misspelled "defamation."
The top three then competed in several heated rounds before Aaron misspelled "membranous" in round 26.
Max and Tamsin continued back and forth until Tamsin slipped on "laterigrade" in round 31. Max correctly spelled that word and "deglaciation" for the win.
Of all the words he spelled correctly, Max said "inselberg" gave him some pause. The bee list defines it as "an isolated mountain partly buried by the debris derived from and overlapping its slopes."
He also thought "membranous," the word that tripped up Aaron, was challenging. It's an adjective that means "thin, pliable and often somewhat transparent."
Besides the trip to the national bee and the trophy, Max also received a floral arrangement provided by Burkland Flowers of Youngstown and will get a gift card from the Rotary Club of Youngstown, a gift card from the Downtown Kiwanis Club, "These Hundred Years — A Chronicle of the Twentieth Century," compliments of The Vindicator; the Samuel Louis Sugarman Award, a U.S. Savings Bond from Jay Sugarman, in honor of his father; and Webster's Third New International Dictionary from Merriam-Webster.
The annual Vindicator regional bee has been a Mahoning Valley tradition since 1934.