Lupo, former employee plead not guilty to dumping charges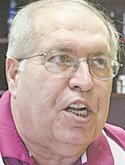 ---
YOUNGSTOWN
Ben W. Lupo, arraigned Friday in U.S. District Court on charges of violating the Clean Water Act, waived a formal reading of the indictment against him, pleaded not guilty and fled the courtroom within minutes.
Lupo, owner of embattled D&L Energy and Hardrock Excavating, appeared before Judge George J. Limbert wearing a black T-shirt and black pants. Looking stoic throughout the proceedings, he muttered only "Yes, your honor" when Judge Limbert asked if he understood the charge against him and the maximum penalty it carries.
Lupo, 62, of Poland; his company, Hardrock Excavating; and an ex-employee, Michael P. Guesman, 34, of Cortland, were indicted by a federal grand jury Feb. 14 after a criminal investigation conducted by state and federal regulators that found Lupo had directed Guesman to dump a mixture of oil, brine and drilling mud down a storm drain.
The incident, which occurred Jan. 31, prompted an anonymous tip to the Ohio Department of Natural Resources. It was discovered that the drilling waste made its way through the storm drain on D&L and Hardrock property at 2761 Salt Springs Road into a tributary that emptied into the Mahoning River, forcing regulators to undergo cleanup efforts for weeks.
Guesman, who made his initial appearance on the matter before Judge Limbert after Lupo's arraignment, was deemed unable to afford a lawyer, and public defender Carolyn Kucharski was appointed to represent him. Guesman waived a formal reading of the charge against him and pleaded not guilty. He was released on $20,000 unsecured bond. Both Kucharski and Guesman declined to comment Friday.
A representative for Hardrock Excavating also pleaded not guilty to violating the Clean Water Act. No pretrial dates have been set.
Though Lupo would not comment at the arraignment, his attorney, Joseph Gardner, said he was awaiting discovery documents to determine what federal prosecutors might present during their case. He added that he would be prepared, saying, "There's two sides to every story, and there's two sides here."
Hundreds of thousands of gallons of drilling waste were potentially dumped down the storm drain at the companies' headquarters. According to a criminal affidavit filed in support of the indictment, Lupo instructed such waste dumps on as many as 20 separate occasions, directing Guesman to perform them after dark when no one else was around.
Court documents show that 58 temporary storage tanks capable of holding up to 20,000 gallons each of drilling waste were located on the Salt Springs Road property.
On Feb. 6, ODNR revoked Hardrock's brine-hauling permit and instructed D&L to cease all injection-well operations statewide and storage operations at the Salt Springs Road site. Six permits were revoked for D&L's injection wells, while three pending permits were denied.
Since then, D&L has appealed to the Ohio Oil and Gas Commission, an independent board appointed by the governor that hears complaints against decisions made by the chief of ODNR's Division of Oil and Gas Resources Management, Richard J. Simmers.
A hearing about Simmers' decision to revoke D&L's injection-well permits is scheduled for May 22 and 23, while a hearing to temporarily suspend that decision will be April 12.
Maximum penalties for violating the Clean Water Act for individuals are three years in prison, one year of supervised release and a fine of $50,000 per day of violation or $250,000, depending on what is larger. For corporations, maximum penalties include five years' probation and a fine of $50,000 per day of violation or $500,000.